Elections are tough times for media buys anytime; this year's promises to be even more challenging than ever. With a political environment that's controversial and contentious, candidates who have more money to spend—and a media environment that's changing almost by the minute—building a media strategy around the 2020 election is going to require more planning, patience and pivoting. 
In a typical presidential election year, marketers and advertisers can make assumptions as to where the majority of the political ad dollars will be spent. Broadcast media is an obvious, with the heaviest ad dollars spent on news networks and an emphasis on battleground states. Over the years, social and digital spending has also increased as political advertisers tap into advanced targeting tools.
What we are facing in 2020 is like nothing we've seen before—in life or in our marketing. But there's been virtually no impact on the robust fundraising that powers political ad spending: In fact, it's just the opposite. 
According to an eMarketer study, the projected total for 2020 political ad spending is $6.89 billion—about 60 percent higher than the $4.22 billion spent in 2016. Television spend will once again lead the way with a projected increase in overall allocation to 66.0% in 2020 from 59.2% in 2016.  
US Total Political Ad Spending, 2015/2016 & 2019/2020
in billions and % of total media ad spending

Source: eMarketer, February 2020
2020 Federal Campaign Spending
by media, in billions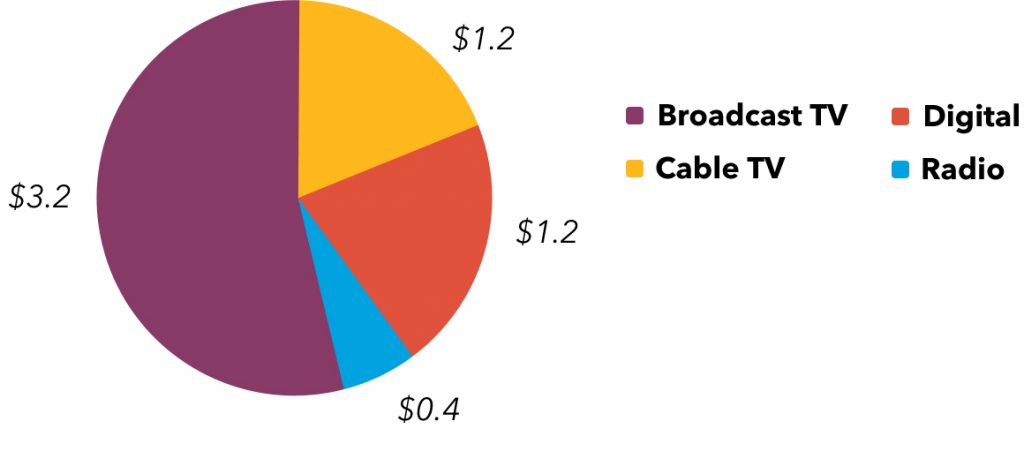 Source: Kantar
While campaign managers are planning to spend, they're biding their time to book their placements, taking a closer look at the changing media landscape, and also looking for opportunities to gain visibility in channels that perhaps they overlooked in the past.  
Tips for what it will take to win this year.
So, how do media planners and buyers ensure a brand's ad campaigns are going to remain visible and relevant, and achieve their goals during the challenging quarter ahead?
Plan early—because the political ad buyers aren't.
Booking media early always helps to secure the best placements, strengthen negotiating power and avoid getting locked out of premium inventory. This is extremely critical during an election period. The earlier plans are done and buys are made, the better shape advertisers will be in.
Given the current market situation, political campaigns have been waiting to secure ad buys— especially on television—until programming is confirmed, e.g., fall prime time shows, NFL, etc.  Essentially, this is the same for all marketers, but perhaps this is an opportunity to take the leap and secure placements before the massive political buys come in. 
Flight and place strategically to avoid political bloat.
Flighting needs to be even more strategic: Heavy up before and/or after the heaviest election period and avoid as much as possible the three to four weeks directly preceding election day. This is even more important with broadcast media where inventory is limited; it's less critical with digital media outlets where impression inventory is less of a concern.
Placement selection also comes into play as political ads tend to align with news content. Steering clear of these outlets and instead buying spots on sports or entertainment/lifestyle networks and utilizing advanced targeting parameters could help navigate around the heaviest concentrations of political ads.
Implement multimedia campaigns to increase your clutter-breaking chances.
Never rely on one media channel during an election period (or ever!). The more media tactics in your campaign, the better your chances for breaking through the clutter and making an impact.  While COVID-19 has made some media channels—such as out-of-home—challenging, it has also provided a boost in usage and ad dollars for other channels such as streaming video, streaming audio and especially over-the-top/connected television. 
Now also may be the time to consider looking beyond just Facebook and Google for your social media spend. To avoid controversies over misinformation in political advertisements, Twitter, TikTok, LinkedIn and Pinterest have banned political advertisements altogether. This provides a place away from political ads for other advertisers.
The goal is to remain highly visible in outlets with your targets' highest usage patterns by continuing to invest in multiple relevant media channels to build reach and recall in the competitive environment.
Stay connected to media vendors.
When the phone rings and it's a media vendor calling during an election period, you know it is either good news that inventory opened up or bad news that you were bumped and need to reconfigure the plan. Therefore, it is imperative to stay in touch and foster relationships with vendors so that your campaigns stay intact and keep working towards goals.
Flexibility is more important than ever.
Even if media planners and buyers follow all these steps, stuff (or similar expletive) happens. There will still be a need to be flexible to make any necessary shifts. For example, television buys may need to shift to different networks or make up spots in later weeks. Digital placements may need to be adjusted to maneuver around political campaigns while still reaching the targeted demographic. 
If there is one thing 2020 has taught marketers and advertisers, it is to keep a constant pulse on the market and be flexible. Advertising during this political season is no different: Above all, be ready for the battle and remain ahead of the curve. Contact us to find out how.
Sources: MediaPost, Forbes, Kantar, Tatari TV