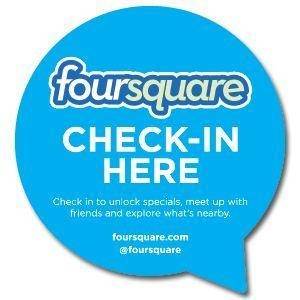 As the president of an advertising agency, I like to stay up on all of the trends. When social media became hot, I wanted to experience it firsthand. So I'm on Facebook, LinkedIn, Twitter, Pinterest and Foursquare.
The appeal of Foursquare is intriguing: "Check in" when you visit places, and your friends will know you're there and meet up with you. Sounds kind of nice. Of course, your friends have to be on Foursquare to know where you are. And, you could certainly text them instead. But that would be too simple.
OK, so friends weren't meeting up with me, but I got kind of hooked on the game. If you check into a place often enough, you become "the Mayor." I was up to more than 80 Mayorships. Foursquare gives happy notices when you achieve Mayorhood. I liked them.
People could knock you out as Mayor. When that happened, you would get a notice from Foursquare that usually started with attention-getting lines like, "Egad!" or "Nooooo!" or "Blast!" They got my competitive gene going, and I would find myself trying to get back to a place a couple of times to reclaim my Mayorship.
After a couple of years, this began to be less fun: I found myself checking into places daily just to protect my Mayorships. After all, I didn't want to get one of the three dreaded alerts on my iPhone that I'd been sacked as Mayor someplace.
Well, it's 2013. I've overdosed on the Foursquare game. I don't want to get any mayoral-loss alerts . . . so I've done two unthinkable things: 1) I've turned off all alerts at Foursquare.com. They won't be bugging me by email or iPhone alerts. 2) (And this was a big step) I deleted the Foursquare app from my iPhone. Yes. It's gone.
So, to all of my Foursquare friends: have at me! My Mayorships are all up for grabs. For those of you whom I frustrated when you got one of my Mayorships – but then I won it back – don't worry. They're yours. I won't see the alert. I've moved on.
True, I won't likely find you stopping by a place I might have checked into, but then you never did anyway.
This has me wondering: Have any of you gotten involved in a social media platform, with lofty expectations, only to be . . . disappointed?