New updates in Google maps, food, shopping, and sustainability are making it easier than ever to find what you are looking for (even if you didn't think you were looking for it). Here's a rundown of these and other enhancements announced at Google Search on 22.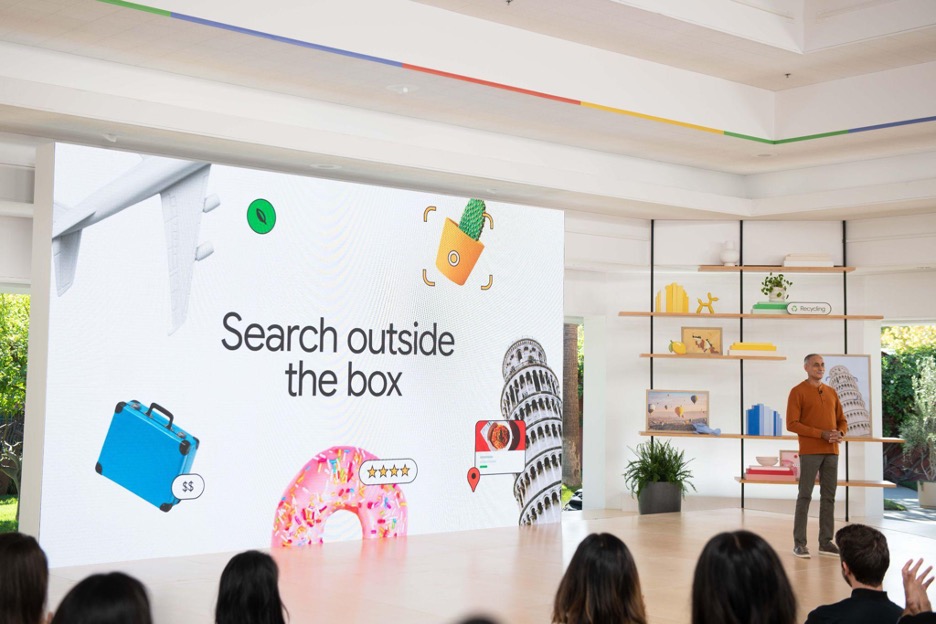 Multisearch
Multisearch is a new way of searching for specific things. You can now search using a picture and add text to it. In the Google demonstration, they took a picture of an everything bagel and added the text "purse" to the search. And voila! The result is a purse that looks like an everything bagel. This update will be available in 70+ languages in the next few months.
Multisearch near me
Multisearch near me uses the same new search feature to find things near you right away. This will be available in the US starting in the fall.
---
Lens AR Translate
Lens AR Translate helps translate text within images and is extremely helpful when traveling in other countries where you don't understand the language. The new version of Lens with AR Translate shows the fully translated image in as quickly as 100 milliseconds! You can use this feature with an image upload or a live image. This new feature will be available later this year on the Google app.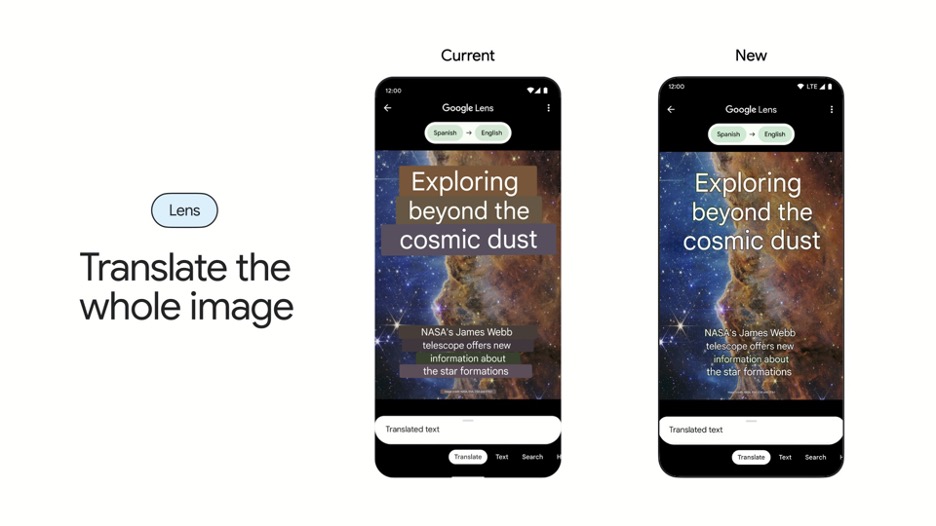 ---
3 New search experiences
Search On 22 debuted three new search experiences to make searching online as seamless and easy as possible. With these three new experiences, users are sure to learn more about their topic and discover things they didn't even know existed.
Making it easier to ask questions
The first feature makes it easier to ask questions. After a user performs a search, they can go even further with keyword or topic options. These are shown as text bubbles at the top of the screen and help you discover more specific topics. If you are searching for Boston, a new city you are visiting, Google can give options to expand your search to include such topics as Boston culture, Boston parks, Boston cuisine, Boston nightlife, etc. This way you can explore topics you might have not thought to search.
Digging deeper
The second feature shows facts, images, and short videos related to your search. You can tap on topics to learn more and help discover things you might have not thought about. It delivers assets other than just website results so that you can dig deeper.
Showing results with video and images
We live in a very image-centric world now, with the rise of smartphone cameras, Instagram and TikTok. There are so many videos and images on the internet and adding them to results can help inspire you.
---
Maps
Neighborhood Vibes
Neighborhood Vibes, which will launch globally in the next few months, lets users quickly find popular things to do in a neighborhood. Google Maps is evolving from 2D to a fully interactive map. Users can zoom in on a neighborhood and see what is popular. Depending on your mood, you can explore more and see what the vibe is. This new feature uses insights plus user contributions to help showcase the vibe of a neighborhood.
Immersive View
Immersive View lets you fully see buildings around you. You can look inside restaurants to see the seating and décor. You can also see what the parking is like near a stadium you've never been to as well as where the nearest entrance is. Immersive View will launch in five major cities in the next few months.
Search with Live View
Search with Live View lets you lift your phone, show the view of your camera, and instantly see what's in front of you overlaid in the real world. You can stand on the street and see transit stations, coffee shops, and ATMs before even walking down the street. This new feature will launch in six cities in the next few months.
---
Food
Nearby Dishes
With Nearby Dishes, you can find the dish you are craving and refine the results by features such as level of spiciness. This update goes even further than just finding the cuisine you are in the mood for and lets you explore new restaurants in your area.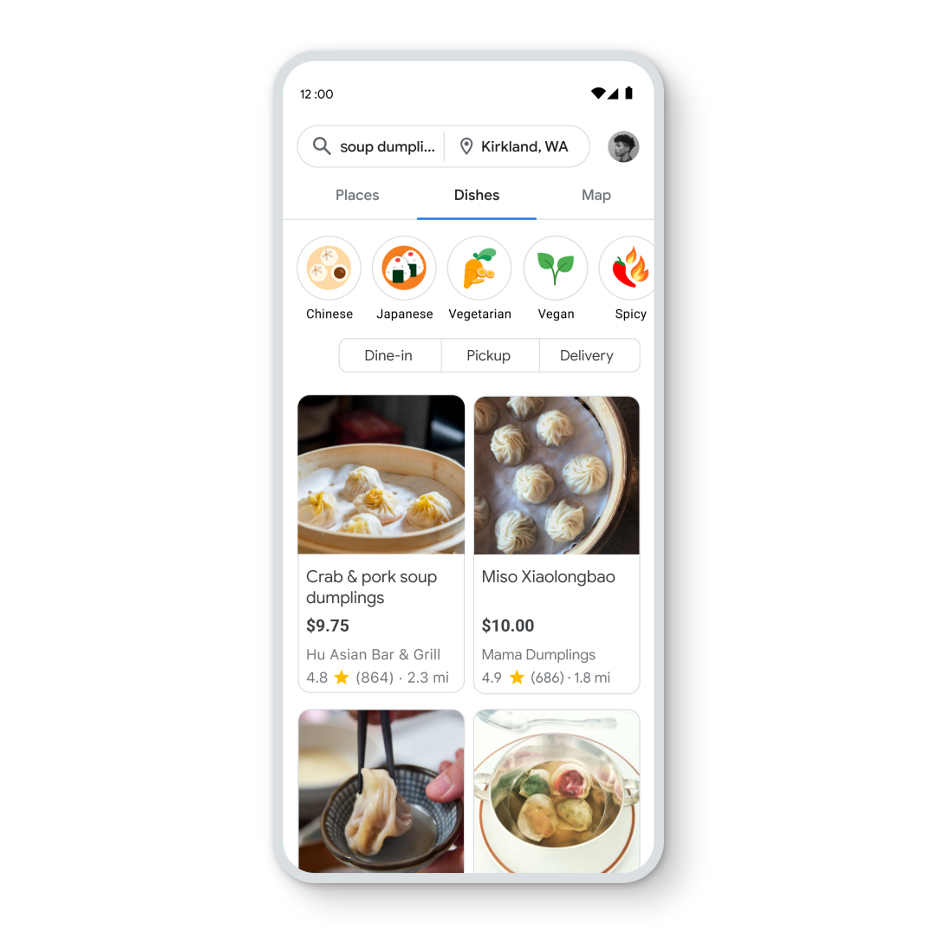 Helpful Highlights
Helpful Highlights lets you see what makes a restaurant unique. This is done by machine learning from Google reviews. This new feature also highlights popular dishes, showcases digital menus, and lets you make a reservation all from the comfort of your phone. Digital menus are provided by a mix of users, the business itself, and other websites. With helpful highlights, you can reserve a table on the spot and share the invite with whomever is joining you. Or you can order online for delivery or takeout.
---
Shopping
Shop the Look
With Shop the Look, you search for a type of clothing or attire and shop directly from the images shown. You can shop for the exact outfit featured in the image, or something visually similar. This feature also showcases what is currently trending and popular at the moment.
3D Images
3D Images are already available on Google for home goods. Now it is expanding to shoes. By just using a few photos, Google can automate 360-degree spins, letting you see the shoes you are shopping for from every angle.
Buying Guide
Buying Guide collects helpful information from all different sources and groups them together all in one view. If you search for "electric bike," the buying guide section will answer questions such as speed, price, brands, and battery life. This new feature is now available in the US.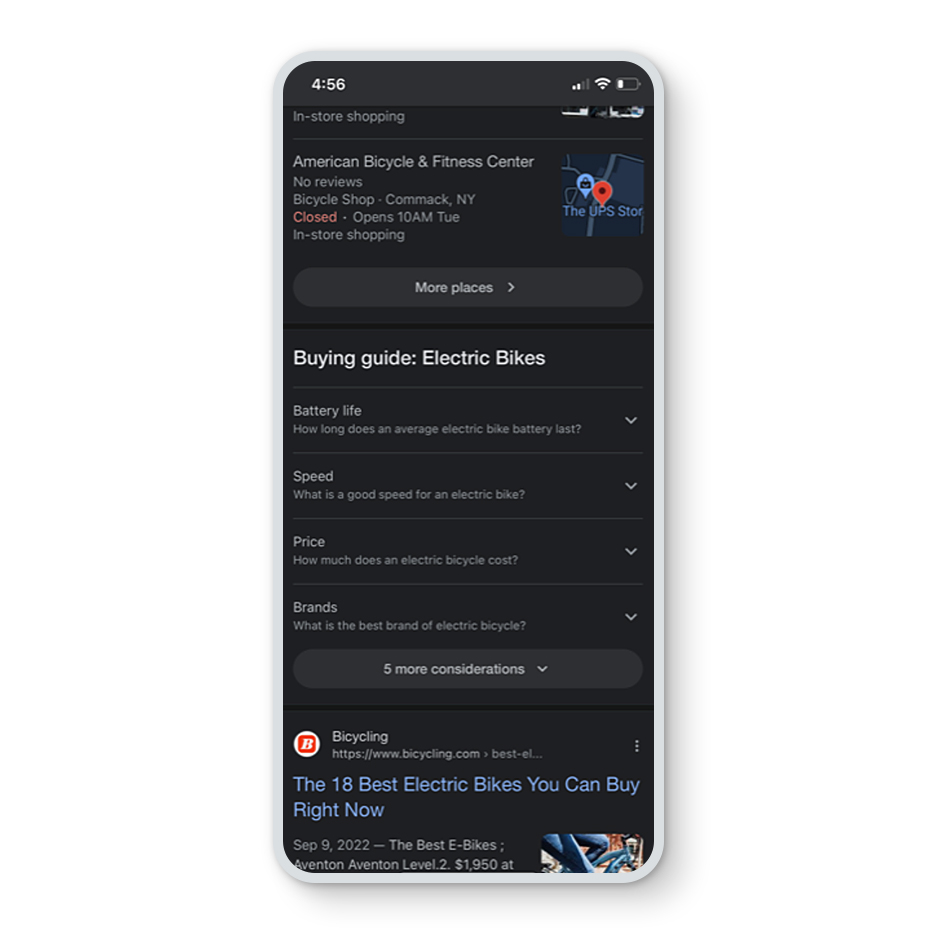 Page Insights
Page Insights gives helpful context about a page or website. If you swipe up on a website, you will see two tabs: People Also View and About the Source. People Also View gives other website results and people also ask questions and results. About the Source gives website results about the website, which can include info directly from the source, outside reviews, and a Wikipedia profile to get more of a sense of whether or not a website is legitimate. It also shows when the website was first indexed by Google.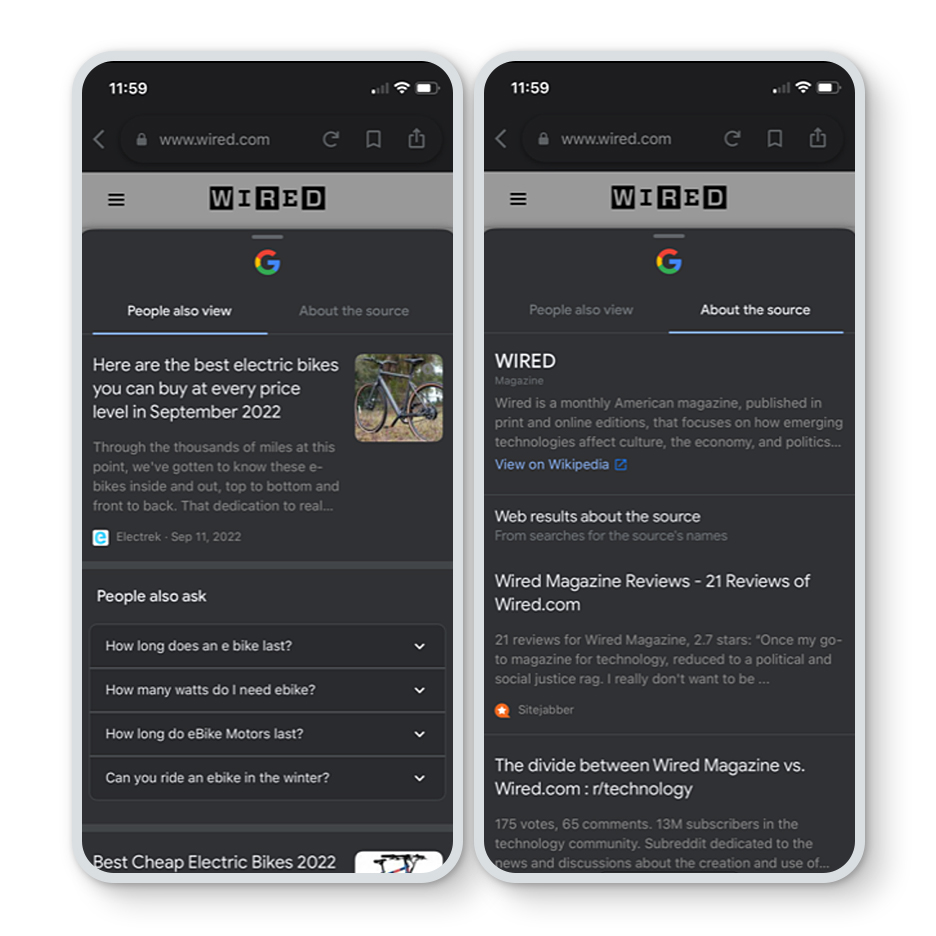 About This Result
About This Result shows users why a website was given as a result of a search. The goal is to help users understand the algorithm and how they can better perform their own searches based on this information.
Whole Page Shopping Filters
Whole Page Shopping Filters lets you filter results based on search trends. These filters are dynamic and can change based on what is current. One example of this is searching for "shop jeans." Filters that show up could be wide-leg or boot-cut since those styles are popular right now.
Discover
Using Discover in the Google app helps you stay on top of what you are into. It makes suggestions in a newsfeed-type setup based on your search history.
---
Sustainability
Google aims to have net zero emissions by 2030. These are the five ways they intend to hit this goal.
Eco-friendly routing
With eco-friendly routing in Google Maps, you can see the most fuel-efficient way to get from point A to B. Routes can be customized by engine type, whether your vehicle runs on diesel, gas, or electricity. This feature will also be available for developers so that its use can be expanded to trucking companies and ride-sharing companies.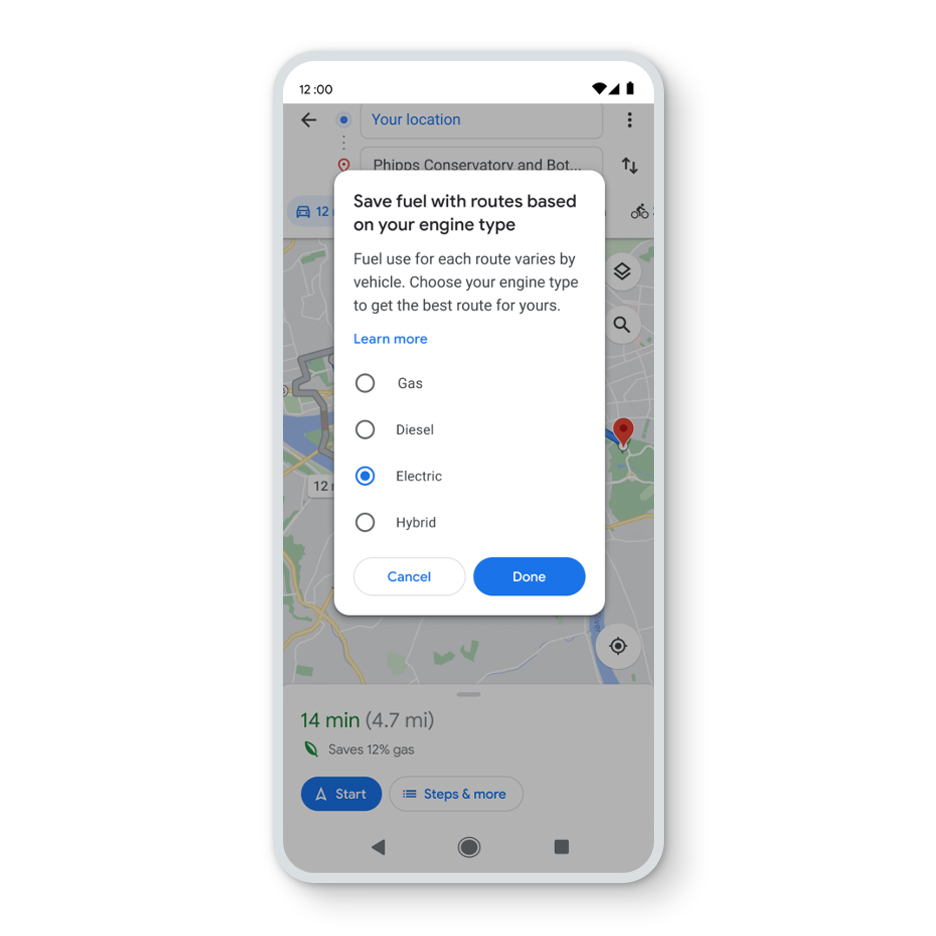 Fuel cost and emissions
When you perform a search for a specific vehicle brand or model, Google will now show fuel cost and emission information so you can make the most informed decision.
Answer questions
Google will also answer frequently asked questions about vehicles, such as energy costs, charging speeds, and charging stations. So all your information is in one spot.
Highlight pre-owned products
Highlighting pre-owned products is another way Google is helping to be more sustainable. Clothing is responsible for 10% of global carbon emissions so buying pre-owned clothing is one small way everyone can live more sustainably.
Compare impact of ingredients
When you search for a recipe, you can now view the impact of certain ingredients. With results from the United Nations, you can easily view the average greenhouse gas emission of beef versus lamb versus cheese and make a better informed decision about which ingredient to use for that particular recipe.
---
Results About You tool
With the newly debuted Results About You tool, Google is making it easier for users to have control of their online presence. You can request removal of personal info from Google searches and keep tabs on new results. You can also opt into alerts when something new pops up.
---
Online discussions and forums
With online discussions and forums, you can get feedback from actual experiences. This new feature groups answers from popular community websites like Reddit and Quora.
---
Translated local news
In order to get the most up-to-date and accurate news, Google is rolling out translated local news. Now you will be able to see translated articles alongside articles in your language. This update will come next year in French, German, and Spanish.
---
With all these new Google search features, marketers will have to make sure their search strategies are in line. There are so many new ways users can now search and find the information they are looking for. Do you want to make the most of these new Google App search features? Contact us to find out how.