Many moons ago, when planning television schedules the most sought-out inventory always included the programs that we called "appointment television," which referred to the programming that TV viewers would schedule their time around to ensure they'd be able to watch.
This is where phrases like "Must See TV" came about for NBC's Thursday night line-up. However, appointment TV is now a thing of the past: viewers no longer need to schedule time to watch their favorite shows. Between online video sites like Hulu and Fancast, as well as programming "on demand" through cable providers, viewers can watch their favorite shows at their convenience.
So what does this mean for advertisers? It means that the already-fragmented media landscape is becoming more fragmented. Rather than looking at network and cable television only, we need to include online sites and on-demand sponsorships as part of the mix.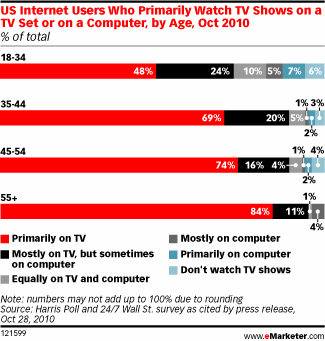 Is this right for all clients? As you can see from the accompanying chart from eMarketer, the younger the audience, the more likely they are to watch television programming online. This is especially important for our higher education clients, where we are targeting 17-25 year olds. For our healthcare clients, which tend to have an older demographic, traditional television will reach them best.
For our regional clients, the good news is that Hulu can be purchased regionally – primarily by zip code. This enables them to be on network programming, which we usually don't buy due to the extended coverage and high waste. However, one down side is that we cannot select programming. Once a target audience is identified, Hulu provides programming that best reaches that audience. Although we can eliminate shows that we don't want to run in ("Do not air lists"), we cannot buy fixed programming on select shows.Another advantage of these online spots is that they are "clickable," so they are doing double duty: branding and driving website traffic.
Hulu and other online sites, however, are causing problems for the cable operators. They are offering free programming without a cable subscription. The cable operators are trying to launch TV Everywhere, "which is an industry initiative to allow those who subscribe to TV in their homes to watch programming at no extra charge on a wide range of other devices," according to a recent BNET article.
Although this sounds convenient, the viewer still needs to pay their monthly cable bill, even if they are not watching their traditional television. There is no online only fee structure at this point. However, this has been slow to catch on – primarily due to lack of content. "Much of the early authenticated content that appears on TV Everywhere sites like Comcast's Fancast Xfinity TV or DishOnline.com comes from Time Warner properties like TBS, TNT and HBO," said GigaOm's Ryan Lawler. "Even for those networks, only a limited amount of video is available to subscribers who log in. But outside of Time Warner, few programmers have made the investment to bring their cable content online behind a pay wall."
While the cable operators figure out a way to hold on to their revenue stream, these online video sites are here to stay – and growing. As a consumer, I am a fan. As a media planner, I believe this is a good fit for many clients.
How do you watch TV? Do you watch in real time or set your DVR? How often do you turn to the internet to catch up on your favorite shows? Let us know in the comment section below.