In the college marketing landscape, student retention has long played second fiddle to new enrollment. Not anymore. In the face of COVID-19, it's more important than ever for colleges to not only attract new students—but to also retain existing ones. And it won't be easy: 62 percent of parents say they're anxious about sending their kids back to college and 52 percent of students believe going back to school in the fall is a bad idea, so retention is more crucial than ever.
What COVID-19-related retention barriers do schools have to overcome?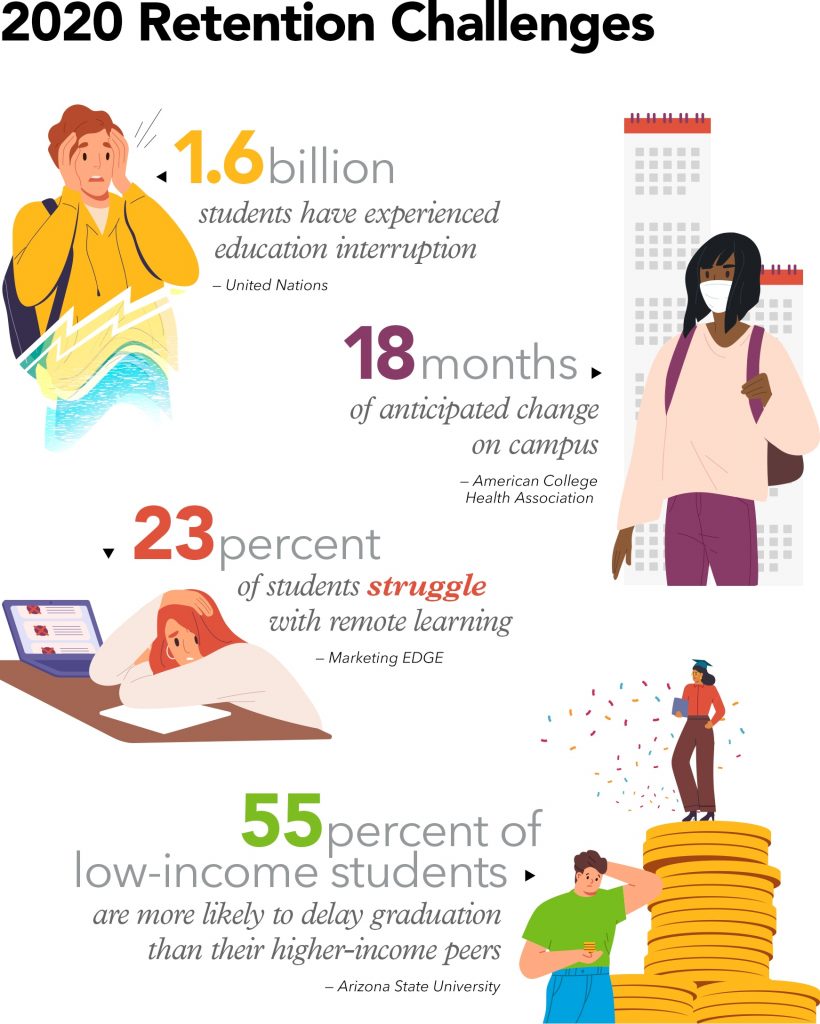 Student retention during a worldwide pandemic is uncharted waters for every college and university, especially when many key factors—like the transition to online learning due to health concerns and new economic limitations—are largely out of marketing's and admissions' hands. However, there are some challenges that can be overcome with the right insights and marketing, including these found in The Connected Student Report, which surveyed over 1,000 students and higher education staff members.
Make it personal (even if it's virtual).
Personalized, on-campus experiences have long been the foundation upon which students develop initial bonds and a sense of belonging with their college, professors, and fellow students.
In the brave new world of remote learning and social distancing, virtually replicating that experience is crucial. Students need to feel connected to the campus they can't visit and the professors they can't interact with during typical, in-person classroom time—and more personalized communication can help fill that void. In fact, 78 percent of students surveyed say that personalized messages help convey that their school cares about their journey and success.
What does effective personalization look like in the new normal? Dynamic email blasts that import not just the student's name, but also their major, classes and professors. One-on-one check-ins from professors. Targeted scholarship and remote internship opportunity communications. These are just some ideas; in this case, it's not so much what you say, it's that you say it—and often.
Turn alumni into brand ambassadors.
No one understands the value of a school more than someone who has personally reaped its benefits. Your alumni pool is an untapped resource in a time when students are questioning whether the education they're receiving is worth the necessary transition to the online learning many continue to struggle with.
Many schools have already established relationships between graduates and current students though alumni mentorships. Now is the time to join them or to multiply those efforts in a virtual space. From making themselves available to provide emotional support to struggling students and "visiting" classes to share real-world lesson applications to sharing their career success stories, your alumni are the valuable and versatile marketing tool money can't buy.
Digitize career guidance.
Career outlook has always been top-of-mind for college students—and the potential of graduating into a job market gone south is reason enough for many students to delay their return to college. A Coronavirus Quick Poll by the National Association of Colleges and Employers found that 7.8 percent of employers revoked or planned to revoke full-time offers to graduates and 31 percent delayed start dates for full-time hires from the class of 2020.
With stats like these, career guidance—and creative tactics—are more critical than ever:
In lieu of campus recruiting events, give students the tools to contact employers on their own: Design email templates and provide students with access to a database of employer HR contacts so they can inquire about open and upcoming internships or positions. While this may not have been standard practice in recent years, pandemic times for call for pandemic measures.
Ensure self-serve your online career resources are up to date and easily accessible to students who can't simply "drop in" in person on campus. Streamline your resources so students can easily navigate to frequently asked questions, contacts, and assistance with career planning, resume and cover letter writing, interview preparation, and graduate school applications.
Don't cancel job fairs; instead turn them into virtual events. There are a variety of online recruiting platforms through which schools can coordinate with employers who typically attend in-person job fairs to ensure your students don't miss out on career opportunities–and employers don't miss out on them.
There is no question that higher education is facing unprecedented retention strains right now, but managing them is not entirely outside the scope of your control. With novel connection approaches and sound messaging strategies, you can keep more of your students coming back—even if it's only virtually.
Want to know what your current students are thinking and feeling? Contact us to find out about AW Actionable Insights, the customized research, discovery and strategic action plan that can help you figure it out.