We've had the chance to shoot a number of new, on location television spots this past year. This shoot for Provident Bank was filmed outside, and inside, a catering hall in beautiful Bayville. Though a sunny day, a cold wind was blowing off the shore making it feel well below freezing on this autumn day. After a few hours outdoors bundled up in layers, there wasn't a member of the creative team, crew or talent that wasn't thrilled to be moving inside to shoot the rest of the scenes.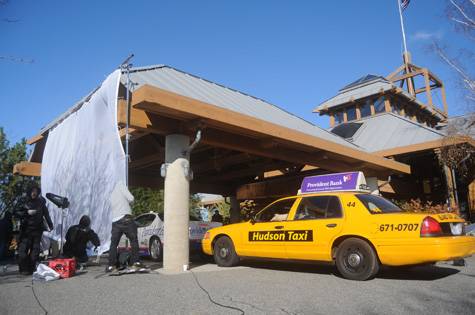 This spot was a lot of fun to produce since we had to create some sets, direct a room of over 100 extras, and were able to utilize the Provident Bank NASCAR we crafted for one of the original commercials featuring Mrs. P.
"Entrepreneur" is set at a local business association event where our big Provident Bank fan, Mrs. P. receives the Entrepreneur of the Year award and notes her business success is all due to her team of Provident bankers.
One of the opening scenes featured the Provident Bank NASCAR. Our real life Provident bankers drove the car down from Rockland County and received more than a few curious stares from fellow drivers on the road.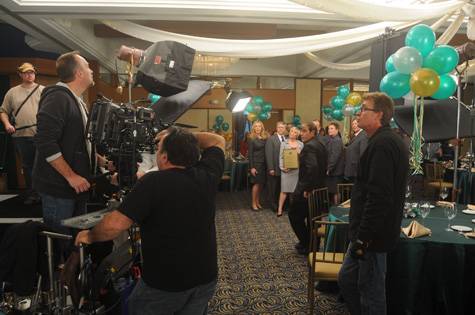 Getting set to shoot one of the scenes that included about 100 extras. These scenes took a lot of coordination to get all of the timing just right. We needed to pay attention to every detail—who is walking where, who is talking to who, is there liquid in the glasses that are being held, does it all look natural…
We filmed Mrs. P. and her bankers being photographed by an actual photographer playing the role of a photographer for the spot.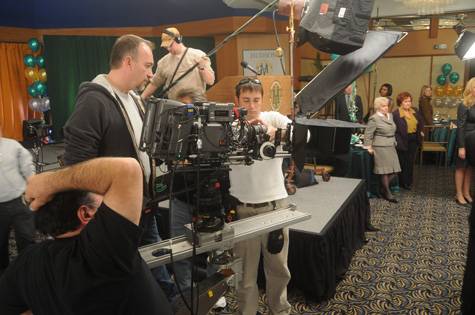 Our closing scene featured some of the event guests "following that Provident car" in a branded taxi cab. The cab owner got such a kick out of his taxi being part of the spot that he was taking lots of pictures of it on the set.
View the complete "Entrepreneur" spot here.
Trivia
There's a former newscaster in this commercial. Can you spot him, and guess who he is, and what news network he used to work for? If so, submit the answer in to the comment field below. Actual answer will be posted next week!