Finally, Super Bowl Sunday! Our junior panelists were getting excited about the task at hand: Offering their opinions on the newest rounds of Super Bowl commercials. Just a reminder: Our panel consisted of 11-year-old Annabelle, 10-year-old Jack, 7-year-old Meghan and 3-year-old Brendan. My wife, Mary, and I would be acting as sounding boards and occasionally tossing in our own two cents.
As game time approached, we lured the kids into the den with promises of appetizers, chips and soda. After drinking his soda, Brendan spent the next two hours running around the house trying to set a new land speed record, so he was a nonfactor in the commercial-watching department. After finishing her mozzarella sticks, Annabelle asked if she had to stay and watch. I told her she could watch "The Walking Dead" marathon and write recaps of each episode instead. In a preview of what we'll have during her teenage years, she flopped down and put on her best "moose face." She quickly came around a few minutes later, giving thumbs up for the Mountain Dew duck call commercial.
So with some of the unhealthiest of food in their bellies and sugar running through their veins, we were looking to crown a champion and ready to fire the worst ad in a rocket to Neptune. We'll start off with what we believed are the clunkers, move on to our favorites and then choose a winner in each category.
Some of the clunkers: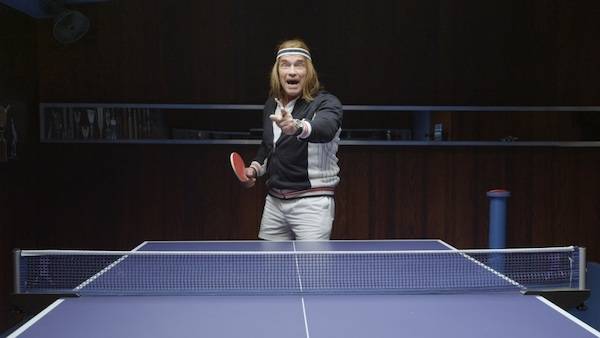 Bud Light "Up for Whatever": Now I know the target audience is not the under-12 crowd, but Bud Light usually delivers with something entertaining. Jack took a brief interest in the ping pong segment, chuckling at the dude with the funny hairdo (oh, Arnold Schwarzenegger), but that was short-lived as he returned to his computer game. Mary and I found it hard to believe that the guy didn't catch on he was in a commercial. I guess he'd had enough Bud Light that he didn't care. At the end of it, Meghan announced, "I don't get it."
Maserati "Ghibli – Strike": At first Mary and I thought it was a movie trailer. Shot with quick cuts and narrated by Academy Award nominee Quvenzhané Wallis in the style of the indie flick "Beasts of the Southern Wild," Jack was the first declare, "This is creepy." He started inching his way toward the exit. Meghan came right out and said she was getting scared. Annabelle looked unimpressed. The question, "Are all car commercials this bad?," was asked later on, and Mary told them that they're usually worse. Meghan then announced, "I don't get it."
Coca-Cola "It's Beautiful": Back in the 1970s, Coca-Cola caught lightning in a bottle with the "I'd Like to Buy the World a Coke" song, and it seemed like they were trying to do it again. Annabelle found it boring. Jack wanted to know, "What the heck did that have to do with selling soda?" I asked if the ad made him want one; he responded with a resounding, "No!" Meghan then announced, "I don't get it."
Some of the favorites:
Radio Shack "The Phone Call": This was the favorite of the Gen-Xers in the room. It's nice when a company is in on the joke, and it was fun watching my childhood memories trash a store. Jack and Annabelle enjoyed the destruction and Dee Snider's unique brand of mayhem. Mary thought there was too much Mary Lou Retton, but it's good to see Q*bert is still getting work. Meghan then announced, "I don't get it."
Toyota "Terry Crews and The Muppets": You can never go wrong with Dr. Teeth and the Electric Mayhem Band. In an unbelievable coincidence, just before the first commercial aired, Jack asked, "When are the fun commercials going to start?" Meghan got this one. Annabelle then asked, "We are going to see 'Muppets Most Wanted,' right?" Touché, cross-marketing.
M&M's "Delivery": Jack's favorite. He likes everything M&M's. If the commercial consisted of the Yellow M&M just standing against a black backdrop for 30 seconds, Jack would still think it was the greatest commercial ever.
Wonderful Pistachios: Annabelle liked the eagle from the get-go. "You can never go wrong with an eagle in a suit." Jack and Meghan were wondering, "Who is this guy?" Jack was hoping there'd be some more dancing nuts a la Psy. When Mr. Colbert finally showed us how he "does it," Meghan gasped, "Eeew." Jack said, "Wow, that's creepy, but cool." Annabelle simply said, "Mind. Blown."
These commercials were the ones that had the most reactions. When the halftime show finally rolled around, we sensed boredom in the kids and let them off the hook for the second half. They sprinted to the next room with hopes of catching the last half of Puppy Bowl X, which didn't sound like such a bad idea since that first snap went over Manning's head. Before they ditched me, we decided on the winners and loser: Radio Shack and Toyota tied for "best" and will be celebrated. But I'd suggest Bud Light grab a coat because I hear Neptune is a bit chilly this time of year.
And now the countdown to pitchers and catchers reporting for spring training begins.