A print buyer should always check the capabilities of a supplier before requesting pricing.
A tour allows you to see how the plant "ticks" first hand.
Here are some of the most important areas to consider: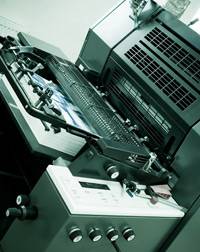 EQUIPMENT LIST
Knowing a printer's equipment list is crucial. Buyers need to understand the most efficient and economical ways to manufacture their products. This includes everything from prepress workflow, to presses well matched to the end product, to in-house finishing capability, packaging, and shipping.
QUALITY CONTROL PROCESSES
Nearly all suppliers have some form of quality control process in place, but the standards will vary. It is worth understanding what a supplier considers the acceptable quality and how its production tolerances compare with your demands.
COLOR MANAGEMENT
Good color management by your supplier will ensure consistent output on presses. Confirm that the presses are calibrated regularly and that the proofs accurately reflect the final print product.
MARKET NICHE
Two suppliers with very similar equipment lists may still quote very different prices for the same specification. A printer specializing in magazines may be less competitive on direct mail pieces or brochures than a general commercial printer.
ACCOUNT HANDLING
It is important to understand the level of customer service that a supplier can offer. In addition to your salesperson, request the names and phone numbers of the production support team within the plant.
ABILITY TO REDUCE COST AND SAVE TIME
A print specification change such as flat size, stock or coating may dramatically reduce cost. Your print supplier should be forthcoming with this money- and time-saving options. For example, short-run digital printing can dramatically reduce cost and lead time.
Planning a big print job? What items on this list are most important to you? Have you had any good (or bad) experiences? Let us know!