Every month, more than 2.41 billion people around the world actively use Facebook. You may say you're not surprised. But take a minute, and really think about that number. Here are some more:
One million logins occur in one minute. (Source: Visual Capitalist) 
Five new profiles are created every second.

(Source: ALLFacebook) 

Photo uploads total 300 million per day. (Source: Gizmodo)
It's no wonder Facebook has become one of the most relevant and targeted marketing platforms to reach just about anyone interested in just about anything.
As marketers, it's our job to make well-informed, digitally-driven decisions to communicate with our target audience. The challenge has become doing that—while juggling all of Facebook's (seemingly) ever-changing guidelines—especially on mobile devices.
Yesterday, the latest change went into effect: Facebook shrank the format of their mobile News Feed ads to show less primary text and reduce the maximum height of images. What this means:
Fewer lines of primary text will show.

Only three lines of primary text (rather than the former seven) will show and users will be prompted to click "see more" to view additional text. Ad copy will need to be tighter than ever to get the message across within the first three lines.
Maximum height for photos and videos is now 4:5 rather than 2:3.

Images and videos will appear shorter on mobile and any ads taller than the new 4:5 ratio will be masked in the News Feed. Creative assets will, therefore, need to be even more engaging to users as they slide through the Feed—and marketers who want to include more imagery may look to use other units like the carousel for added flexibility and stopping.
Just another day in the ever-changing social media world of the marketing business. But then again, when it's a platform with the potential to reach billions worldwide, it pays (literally) to be smart, nimble and go with the Facebook flow.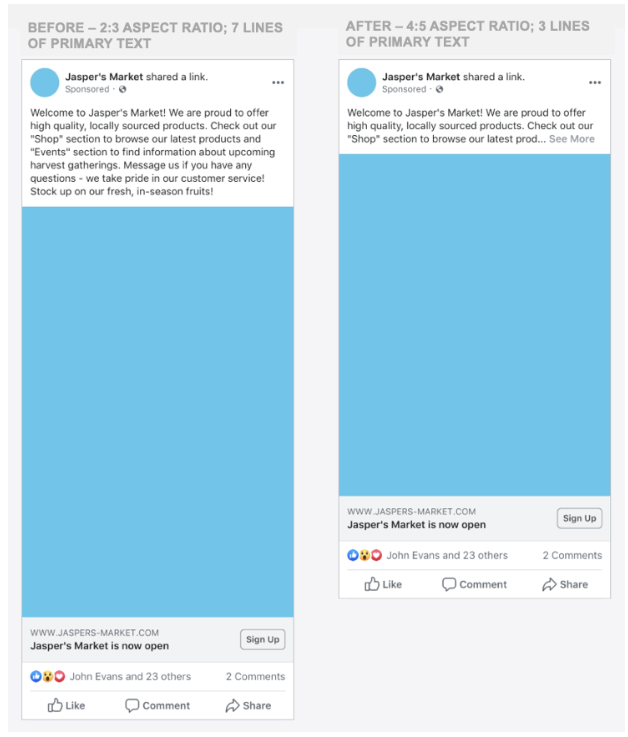 Source: Zephoria Digital Marketing