How did I get here and what just happened? One of the common threads of discussion in the Pinterest crowd is the utter addiction users experience. No joke: I got sidetracked several times just trying to "research"—for example, I saw a beautiful image that then led to a post about making Oobleck to celebrate Dr. Seuss' birthday from 2007. (I am admitting I will try this out.)
You sit down to pay an online bill, and the next thing you know, it is an hour later and you have clicked your way through endless beautiful mouthwatering recipes, seen the next fall fashion lookbook from Nordstrom, beautiful hotels to rest your head in the most exotic areas of the world, as well as ideas on how to decorate your apartment. I'm telling you it's endless.
Pinterest is an image-based social media outlet, so the experience is more esthetically pleasing and more calming than say Facebook, where let's be honest, we come across more passive-aggressively whiney comments than helpful or interesting ones. Pinterest also has similarities to Twitter, as you are getting real-time update of pins that are going up from the people you are following. You are also able to repin, similar to the retweet, and the source link will stay with this pin all along its pinning travels, creating valuable backlinks to the site, blog, store, etc. in question. Your ability to follow users, comment, tag, like and share, makes it easy to spread the word on a topic fast. You are also able to easily share your pins on your Twitter and Facebook pages.
To an everyday user, Pinterest is a source of inspiration. I have seen boards for decorating, recipes to make, DIY projects, planning parties and weddings. Pinterest has way more power than the user, looking for the best chocolate chip cookie recipe, might even realize.
Who is using Pinterest?
The gender breakdown in America: 83% of the users on Pinterest are women, according to iQuarius Media. If you think that is a negative, think again: According to the U.S. Census Bureau, women control 80% of household discretionary spending. Yet in the U.K., the majority of Pinterest users are male—56% to be exact.
The average age of Pinterest users is between 24 and 44. To date, there are 250+ brands currently on Pinterest and if you think that the millions of people pinning and creating their inspiration boards isn't leading traffic to websites, blogs, even foot traffic to brick and mortar stores, you are crazy. In January 2012, Pinterest drove greater traffic to websites than LinkedIn, Google Plus, Reddit, and Youtube – combined.
Curious to see if users are pinning anything from your site onto Pinterest? Use this URL format pinterest.com/source/.  Here is an example of Austin & Williams content.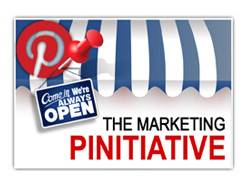 Know who you are, know who your target is.
Leveraging Pinterest's enormous capabilities takes planning. Like all marketing, you can't go in blind and hope for the best. Your research should start with identifying the ideal audience for your content. Knowing your audience will make it much more likely that your pins/boards will drive activity.
Pinterest is a rather new animal in the game of marketing. As with most content-centric marketing channels, it is of the utmost importance to stay interesting. The point of this social media outlet is to express your personality and humanize your brand/company. Interest is built right into the name, so being boring isn't going to cut it. Each company, personality and brand that has profiles on Pinterest should know who it is they are targeting and post accordingly.
That's one cute juggling puppy.
Pinterest delivers a platform, which provides valued content. Those who use it purely to push their products won't get much traction. You have to treat Pinterest as you would all other media outlets: the more useful/informative your content is, the larger you'll grow your following. Figuring out how to visually represent who you are/your company is, what you stand for and what you value is the first step. Knowing why those ideologies are important to your target audience is the next. Your posts should show your personality and highlight your passions, helping to create a connection between you and your followers. Having captivating content, even some zany pins/videos that represent who you are and your interests, and if you have targeted your audience well, similar interests of your followers—result in a successful use of Pinterest.
Product pushers on Pinterest are annoying. If you purely promote and don't provide, you won't be getting the most out of this unique content marketing tool.
Not all pins are created equal.
Pinterest is seeing some serious numbers in the e-commerce area. Some of the most popular pinned topics in the U.S. are Fashion/Collections, Interior Design, Hobbies, Gifts, Crafts, while most popular topics pinned in the UK are venture capital, blogging resources, crafts, web stats/analytics, SEO/marketing. Shopify analyzed data from 25,000 of their online stores and found that orders coming in from Pinterest over the last six months have quadrupled, making Pinterest the third biggest referral source. Now the debate is open that not everyone should be jumping on this social media bandwagon. What about our B2B companies? The challenge here is the obvious issue of lacking visually appealing content. Here are some ideas out there for all those companies lacking:
Capitalize on visual content you already have. There is a snap happy photographer in every company. Show your culture and passions.
Pin the images accompanying your company's blog posts.
Pin some interesting charts and infographics. Infographics are big and they are doing really well in the Pinterest world.
Pin some happy customers, and encourage your customers to pin to these boards as well. Something showing their happy lifestyle or an event they took part in because of your brand, product or service.
Host a contest. There are a lot of organizations out there that have already experimented with running contests, including Better Homes & Gardens, Tacori, Overstock, Threadless to Spa Week and Syracuse University. Asking users to create pinboards that feature things they love about their brand/service/product is a tactic that is driving some serious traffic. Holding contests is a personal and cost-effective way to connect with your audience.
Provide discounts, sign-up incentives and possibly coupons you can create to Pin for your clients.
Succeeding on Pinterest isn't just about putting up a board of cute furry animals and some recipes. It's about finding creative ways to express who you are as a service/product provider and discovering how what you offer can fit into the lifestyle of your target audience.
Have any pointers on how to use Pinterest as a marketing tool? Have a great success stories? Please comment below.