I had the opportunity over the past year to gather the thoughts of our creative team to help identify some of the often-seen pitfalls that we work diligently to avoid. We hope that in sharing this Top 10 list, we not only increase awareness of what works – and what doesn't – but also give you a glimpse into the strategy we use to build strong sites that deliver strong results.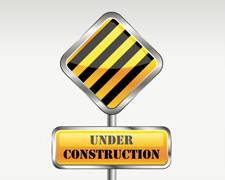 Before we begin, we want to preface with: Don't go "old school." Never use under construction pages, blatantly garish animated gifs, scrolling text, "splash pages," flaming logos, auto-popup windows, or auto-play audio/video without user interaction. We're still amazed that many of these practices have survived the '90s, and believe they're best left in the past.
That being said, here's our list of Top 10 Website Development Mistakes.
1. No core strategy/objectives from the start
Assign a centralized team with one strategy. Don't just leave the website to the IT department – create goals with all internal needs in mind (business, marketing, sales, etc.). Don't blindly follow the "buzz" of the day – research and find out which tools works best to achieve your objectives.
2. Calls to action that don't match your objectives
Define what actions convert (conversion rate optimization or CRO) and make them prominent throughout the site. Make sure your contact info and location listing is front and center. Review user flows/scenarios and make sure they are not too complicated (Too many steps? Too many form fields to complete?).
3. Inconsistency with your brand, design, messaging and navigation
Ensure that all content is spellchecked AND proofread, not just before launch, but after every significant site update, and that there is consistent use of your logo on the site and all external sources (social networks, directory sites, local listings, event sponsorships, etc.).
4. Ignoring your audience
It isn't about you, it's about them. If you are focusing on your preferences and not the benefits for your visitors, your results will always fall short. Identify personas (different types of audiences that visit your site) and assign content needs and calls to action for each group.
5. Building it, assuming "they will come"
A strategy that forgets about site promotion will quickly disappoint once the site traffic data shows no improvement. Research opportunities with both inbound marketing (social media, blogs, SEO, PPC) and outbound marketing (letterhead, business cards, collateral, ads, email signatures) to include in your strategy mix.
6. Not thinking ahead
The "set it and forget it" mantra no longer works online. If you site is not updated frequently and contains old content, it looks bad to both your audience and search engines. Continuing to optimize your site (track » analyze » optimize) is the best approach. It is also important to ensure that your site architecture is built for future site growth. As your site content increases, your navigation and page design should continue to keep the info as accessible as possible.
7. Making the navigation too complicated
Offering too many link choices or creating sub-sub-subpages too deep into the site confuses your audience, rather than delivering the info they need. Be conventional with navigation – use what works and what they are most familiar with. Label navigation with obvious, consistent names.
8. Ignoring your site's framework
Going cheap on your content management system (overlooking security and structure issues) is like building your offices on sand. Don't select a CMS that claims to be everything for everyone. Rather, outline your content management needs and select a CMS that's the best fit.
9. Forgetting your old site
Old browser bookmarks, links in emails and external links to your site will still exist when your new site launches. Don't ruin any user's experience with a "page not found" message. Check your site analytics for the most popular old URLs, and redirect those to the same/most similar content on your new site.
10. Not thinking beyond the desktop monitor
You may think you're building one site, but your users are viewing it hundreds, possibly thousands, of different ways. Different operating systems, browsers, screen dimensions, even the device affect the viewing experience and technology support for each environment. Site analytics are your greatest asset to identify the most popular environments and optimize how you display your site to largest percentage of your visitors.
Of course, many contenders were cut from the Top 10 list, but these are also important to keep in mind. Runners-up for top site development mistakes are:
Putting too many content areas on a page
Bloated sites that take too long to load
Sites made entirely of Flash elements/frames/graphics
Font size too small (under 11px)
Sites with knockout body content (white text on black background)
Forgetting to use alt tags for each image
Forgetting to offer multiple points of access to important information (navigation, search, cross-promotion, internal links, footer links)
Hiding important content within images/flash areas, which can't be indexed by search engines
Using FrontPage or Publisher to build your site code (creating messy, buggy HTML)
What other mistakes have you seen in site development that we can all learn from?