Search engine optimization has gotten a bad rap over the years, from the black hat SEOs who have spammed the internet with garbage for SEO purposes, to the belief that SEO is all about page titles and meta tags.
If only SEO was that easy! SEO is a complex equation that has many moving parts, and progress can come to a screeching halt if one of those parts isn't correctly in place. The best SEO happens when everyone is on board, from the programmers to the writers, designers, webmasters—and of course, the clients.
With that said, one of the biggest hurdles we SEOs  face is answering perhaps the most important question: "What is SEO?"
On-Site SEO
Tier 1: The Development
Content: Often we hear "Content is King" and that remains true. Content is the heart and soul of the SEO campaign, whether it is page text, titles and description tags, videos, audio files and whatever other content you're offering your users. Without good content, you likely have nothing, unless of course your product speaks for itself (in which case you probably don't need an SEO campaign—or even a website for that matter). Design
: For as long as I've been working in SEO, I've said page and site design is a crucial factor in the SEO equation. If a site looks amateurish or even templated, the product or service that the site is offering looses credibility. Design and usability help reduce bounce rates and ultimately help lead users down the path of conversion. Google's recent update offering page previews in the search engine results pages (SERPs) could have implications on if the user clicks ahead to the site. Thus, design now truly matters in the SEO equation if it didn't already.
Architecture: Site architecture and structure have major implications for SEO, and they are the true foundation of every website from the development of the code, to page hierarchy, internal linking, file naming, page loading speeds, among other things. Similar to a house, if you don't have a solid foundation in place, your site (and SEO campaign) will easily fall apart.
Accessibility: There are countless spider blockers available including frames, iframes, JavaScript menus, flash elements, etc. Without discussing these menus with your SEO prior to launch can eliminate crawl rates or even the ability for search engines to crawl your site, thus eliminating any possibility to rank for the keywords you're aiming for.
Tier 2: The Core Fundamentals
Keywords: Keyword Research remains the foundation of any search campaign. You need to know what keywords your target audience is using in order to properly target them. In a perfect world, keyword research should happen before the first piece of content or code is written. Internal Linking
: Internal linking is a very strategic aspect of SEO. This is where you'll determine how much link authority you're willing to pass to other pages and ultimately where you would like to lead your users throughout the site. Typically you want to take them from the landing page down a path toward conversion.
Local (Internal): Local has been a hot topic over the last few weeks with the launch of Google Places, not to mention other Local Business Services. Most SEO campaigns should have a local strategy in place on and off the site. Since more than 20% of searches have a local intent (according to Google) and Google has become very serious about local, it's a good idea to "think locally" when writing your content and building your site.
QDF: "Query Deserves Freshness" has a been a great topic in the SEO world for some time now. This is an aspect search engines use in their algorithms to determine if the search query would be better served with a more timely result—if it's from a blog, a tweet, or something of the like. Search Engines love living and breathing sites, not to mention Social Media, so expect this love to keep on growing.
Tier 3: The Data/Statistics
Page Rank: In short, Page Rank is Google's grade or ranking system for how many quality and relevant sites are linking back to your site. However, don't live and die by what Page Rank is displayed in your toolbar. Google undoubtedly has a Page Rank assigned to your site, but only they know what it truly is (since they really don't update it that often). Spiders:
The spiders are what "crawl" the World Wide Web and, of course, your website. Don't block them from accessing your site (see Accessibility above).
Long Tail Theory: Even though you will probably obsess over the head terms and keywords because of their search volumes, it's the long-tail search queries that will ultimately bring the most qualified traffic and most conversions. Search Engine users continue to be more sophisticated when it comes to searching, and query lengths continue to increase, despite Google's efforts to shorten them with recommendations.
SEO vs. PPC: Even though organic listings receive more than 80% of the clicks, the best search strategy includes integrated SEO and PPC. Studies have shown a 66% increase in traffic when both strategies are integrated. SEO will give your website the most ROI over the long haul, but PPC is a great compliment to the SEO campaign and short term strategy for your site.
Off-Site SEO
The Supporting Cast
Links
: All SEO studies typically lead to the same results: the more relevant, quality back links that are pointing to your site will increase your site ranking in search engines, and increase your Google Page Rank. The best links are those that include keywords in the anchor text and those that are naturally achieved as opposed to paid. There are some great ways to build links, but require time, patience, creativity and a site with great content that will earn this respect. Make sure you have everything else (see above) in place before spending your time and effort with link building. You need to have a great site first.
Local: It's worth repeating, Local is a major player in search – on and off your site. It's a good idea to have a customized Google Places page and to look into some of the Local Business Services available. The Mobile industry is growing and 80% of smart phones will have GPS by 2011.
CRO: Conversion Rate Optimization is all the rage, and the idea is shocking that site owners haven't looked into increasing conversion rates sooner. I say, stop focusing on rankings so much… focus on conversions.
Analytics: Every website should have some form of analytics in place. You need to know how your site is performing on the web, whether it is good or bad. Then you need to know how to build on those strengths and fix all weaknesses. Without analytics, you're clueless.
Social Media: I know you've been waiting for this one… Everyone loves social media, including myself. Bottom line, Google is the most important factor for generating traffic, but social media sites such as Twitter and Facebook are not only great for additional traffic, but also helping your site get indexed faster, getting content spread over the web at a scary pace and continuing the conversation. Whatever users are searching for, they're likely discussing it in the social world. Social searching is also something to consider. If your target audience's followers recommend your product, and they move on to search, and your site is present in the SERPs—they're more likely to buy into what you're selling. It's just the nature of the beast at this point in the game.
PPC: We covered this earlier, but a strategic PPC campaign can greatly benefit any SEO campaign, and vice versa. If budget allows, a paid listing can not only give your site an additional presence in the SERPs, but also another opportunity for your target user to click on an additional listing.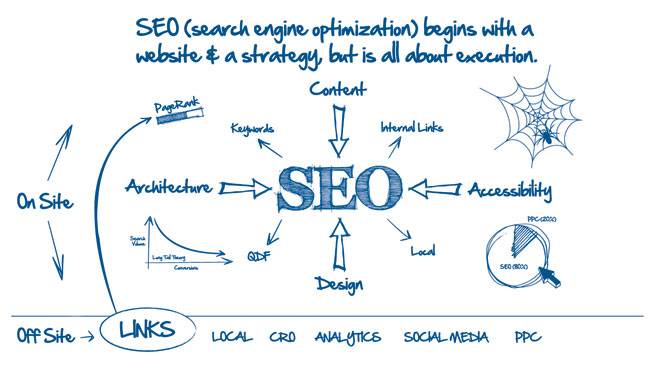 So there it is. I hope I've given SEO the proper introduction or definition it so well deserves. SEO is obviously more complex for one blog post to allow, but I've done my best. Please don't let the conversation stop here.