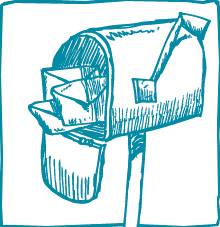 Last year, the Post Office lost more than $8 billion. That was after cutting 110,000 workers and $12 billion in costs.
In 2010, retirement benefits cost the Post Office $7.7 billion, of which Congress requires that they prefund $5.5 billion. As a result, they started the year almost $6 billion in the hole. Not a great recipe for running a business.
The Postmaster talked about closing plants, laying off workers and suspending payments to their pension plan in the middle of last year. Congress stepped in and made them delay taking these actions – so the Post Office continues to bleed. It's tough enough to run a business, but with politicians in the way – it's got to be really tough.
Email, Facebook messages and other forms of communication have reduced the amount of mail Luckily for the Post Office, enough catalogers and bulk mailers think I need to see their stuff every other day to make up for a lot of the loss in First Class Mail.
Last year, most school districts stopped teaching cursive writing. I never had good penmanship (perhaps because I'm a lefty), so I tend to print. Yet the passing of cursive writing, handwritten letters and notes saddens me. Trust me, folks, there's nothing quite like getting one. An email, text or Tweet is simply not as meaningful.
Will the Post Office survive? Yes, I think so. True, they'll need some efficiency and pension reforms, to be sure, but they will go on.
Direct mail is still one of the best methods for nonprofits to get donations, banks to acquire new customers (near the branches they keep building) and retailers to spur sale traffic.
Here's the big thing the Post Office has got going for it: I may toss a lot of "junk mail" that I'm not that interested in, but it doesn't irritate me when I get it – you never know when you'll spot something cool. (On the other hand, don't even think about spamming me!) I react with loathing and disdain for my junk email. Junk snail mail doesn't have the same effect on me.
What do you think? Is the Post Office here to stay or should we stop stocking up on Forever stamps?