Have you noticed that people usually associate certain foods and beverages with the seasons?
My wife insists that White Zinfandel is only for the summer. Bloody Mary's, only in the winter. And most notably, no hamburgers on the grill after Labor Day.
While it's true, I barbeque hamburgers only during the summer, I do enjoy a good burger (and beer, of course!) year round. Here are some of my favorites.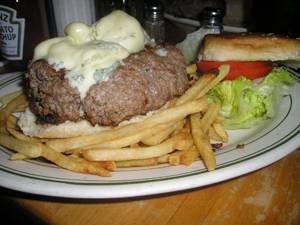 Jackson Hole: Home of the 7oz. Burger – 91st & Madison, NYC (6 addl. NY & 1-NJ location)
J.G. Mellon, 1291 3rd Ave (cross street 74th Street) – Table service outdoors, weather permitting
Canterbury Ales, 46 Audrey Avenue, Oyster Bay, NY
Five Guys Famous Burgers & Fries, 601 Veteran's Highway, Hauppauge, NY (Also in Long Beach, Levittown, Huntington Station & Amityville)
Cheeburger–Cheeburger, 12 Manetto Hill Mall, Plainview (Also Farmingdale)
Jackson's, 6005 Jericho Turnpike, Commack
Favorite Fast Food Burger:
All American Burger, 4286 E. Merrick Road, Massapequa
Where is your favorite burger? Please share your top picks and comments.