My wife, Pam, and I recently strolled down Third Avenue, through Astor Place and Cooper Square, to the Bowery and beyond.
Following are a few worthwhile finds.
Hank & Pam 1-5 Ratings System: 1 = Lousy/ 5 = Awesome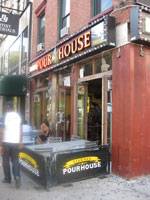 Village Pourhouse, 64 3rd Ave., NYC (at 11th St.)
Neighborhood sports bar. International Beer Selection in bottles and on tap. Assorted beer flights and interesting menu offerings. Hank – 4 / Pam – 4 (5's if we caught it at Happy Hour) Other locations: Upper West Side and recently opened Restaurant Row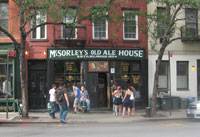 McSorley's Old Ale House, 15 East 7th Street, NYC (off 3rd Ave.)
Established in 1854, McSorley's can boast of being New York City's oldest continuously operated saloon. Originally an Irish working mans saloon, everyone from Abe Lincoln to John Lennon have passed thru McSorley's swinging doors. The old ice chest houses sodas, the only drink other than ale permissible. With the Supreme Court ruling of 1970 (allowing women entry into McSorley's), the bathroom became coed. Sixteen years later, a ladies room was installed. You should experience McSorley's at least once – $5 buys 2-mugs of ale.
Hank – 4 / Pam – 3 (only beer available, strong beer aroma, very interesting but too crowded during the weekend to appreciate historical artifacts)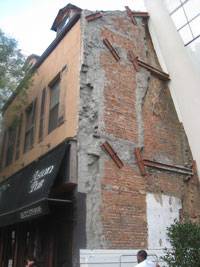 Cooper 35 Asian Pub, 35 Cooper Square, NYC (3rd Avenue at 6th )
NYU student hangout known for cheap drinks and the home-made salsa and chips that arrives free with them. Features a spacious outdoor garden for fair weather enjoyment as well as a roomy interior.
Hank – 4 / Pam -2 (nasty coed bathrooms)
Local Attractions: Blue Man Group at Astor Place Theatre, 434 Lafayette Street. For an interactive experience, book in the first 2-rows. Check site for specials Hank – 5 / Pam – 5 Arrive early? Swift Hibernian Lounge, 34 E 4th St (between Bowery and Lafayette) Irish Pub – Bartenders are willing to discard a couple mugs full for the perfect draw of Guinness Stout. Hank – 5 / Pam – 5. Hungry after? Puck Fair, 298 Lafayette Street (between Houston and Prime). Two-level neighborhood Irish pub. Full bar and fine pub fare. Hank – 4 / Pam – 4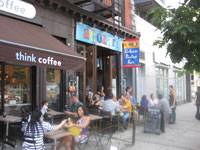 Agozar Cuban Bistro Bar, 324 Bowery, NYC ((btw. Bond and Bleecker)
Nice ambiance, seemingly perpetual HH with half price drinks and tapas and/or drink specials. Lucky find while we waited for lost 'crawlers' to catch up
Hank – 5 / Pam – 5
Café Habana, further south on Bowery, right on Prince at Elizabeth
Mexican Corn "to die for." Small, busy eat-in or takeout window.
Henry – 5 / Pam – 0 (does not eat 'grilled corn on a stick' while standing outside)
Please share your comments and favorite East Village spots.