They say the secret to business success is finding your passion and getting paid for it.
I've found that—creating marketing and ad campaigns that turn a business into a brand the excites customers and drives profits.
There's also a decent amount about making a living that will probably never be fun, like invoices, bookkeeping, insurance and benefits paperwork. But that's the price of making a living, and for taking care of the people you surround yourself with and work with shoulder to shoulder.
Another way of having fun at work is paying attention to the space that surrounds you.
We just moved our offices—from a fairly typical set of siloed offices clustered around a conference room to a brand new, brightly lit, vibrantly colored open floor plan. It's full of life and energy. Everyone works hand in hand, and so they better understand what the person next to them is doing and how it affects their own work. I noticed an immediate change in our employees from day one.
People got excited about coming to work again.
They always liked the work—but in a drab, tan-on-brown office with little to speak of in either color or light, it just felt like… work.
Now we play foosball and cornhole at lunchtime. We fly drones. We sit at tables coated in whiteboard tops and scribble our ideas. We brainstorm in "The Lab" and strategize in "The Fishbowl."
Walking around the space, you're greeted with murals meant to inspire. One reads "Creativity is intelligence having fun," while another simply reads, "Normal is boring!" Both are meant to elicit a fresh take on everything we do—as well as a smile and/or chuckle.
Those mantras that decorate the walls don't sit far from the recognition of our work: shelves full of awards for our work for clients in financial services, higher education and healthcare—and for our business growth.
These same clients have been energized by the space too. First-time visitors let out a "wow" (which is what we were going for) as they soak in the expansive view, colors and the light. Their reaction underscores a reenergized professional relationship as we set out to create strategies that will drive their business. Our recent office warming party brought more new visitors—all of whom marveled at how we had "brought Manhattan to Long Island."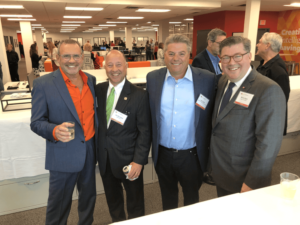 The effect our space has had on our business is truly remarkable. Aside from our talent, it's the best investment we've ever made.
About Austin Williams
Austin Williams is a full-service marketing, digital and public relations firm, creating ideas that inspire action for clients in the healthcare, higher education, financial services and professional services industries. Certified as a Women Business Enterprise (WBE) by the State of New York, the Long Island-based firm was founded in 1992 and was named one of the 100 fastest-growing agencies in the nation. In 2017, it was listed as a "Great Place to Work" by the institute that creates the annual Fortune 100 Great Places to Work list and received distinction as a member of the Inc. 5000.