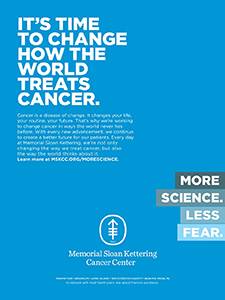 Memorial Sloan-Kettering (MSK) Cancer Center's new campaign— "More Science. Less Fear." —delivers their message of innovative research and personalized care with a new creative approach that emphasizes changing the way people understand and talk about cancer. Focused on responding to the fear that surrounds a cancer diagnosis, this emotionally connected strategy comes from an unlikely source: An advertising agency that specializes in the hospitality industry.
But it's not only MSK's creative platform that's coming from a hospitality perspective; it appears to be adopting a similar culture and creating an environment that cultivates that culture. On the heels of the recent roll out of their "More Science. Less Fear." campaign, MSK has begun working with a Manhattan-based design and branding firm that specializes in the hospitality industry to design the interior of two ambulatory care centers. The anticipation of not knowing is immediately assuaged as you enter through the doors and a staff member greets you with a tablet. Given an ID tag, you are then free to roam throughout the building, sit in a café or find a more private, personal setting. With expected design updates for their recovery rooms, staff lounge and outpatient treatment center, the goal of MSK is to change the hospital experience and to tie that experience together across their network.
MSK is not the only healthcare institution that appears to be taking a page from the hospitality industry. This customer-centric approach has recently gained traction across the industry and seems to be picking up speed. With North Shore-LIJ Health System recently hiring a former senior executive with Ritz-Carlton hotels as their first chief experience officer, it's clear that the hospitality industry is being successfully welcomed into previously unchartered territory. Last year, AdvantageCare Physicians hired Hospitality Quotient, a hospitality-consulting firm that offers workshops teaching medical professionals best practices toward improving patient services. "We didn't learn anything like this in medical school," said Dr. Julie Patel-Pannullo, primary care doctor at AdvantageCare Physicians.
Not that long ago, the idea of cross-pollination between healthcare and hospitality may not have been welcomed or even obvious. Maybe the healthcare industry was primed for innovation—or maybe it's simply a response to increased competition and regulation. Like a casual conversation between two people that leads to an opportunity, you just never know. Stepping out of its comfort zone, the healthcare industry can only gain from what the hospitality industry has to offer. I think Memorial Sloan-Kettering has done just that.
Austin Williams is an outcomes-driven full service advertising, marketing, digital and public relations agency, creating ideas that inspire action for clients in healthcare, higher education, financial services, nonprofits and professional services.