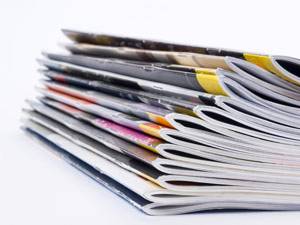 As technology continues to advance, the lifespan of "traditional" forms of media seem to hang in the balance. However, at Austin & Williams, we strive to give our clients the best possible plan for their media budget and do so by utilizing all channels of media, including print. While some may doubt the strength of magazines as a form of media today, the Publishers Information Bureau recently reported consumer magazines experienced growth in both ad pages and rate card ad revenues in the second quarter of 2010 for the first time in nearly two and a half years.
The major ad increases were in the automotive, finance, insurance, real estate, toiletries and cosmetics categories, with smaller increases seen in home furnishings, technology and food. Automotive, real estate and home furnishings are particularly noteworthy since these categories suffered some of the biggest loses during the economic downturn.
According to Erik Sass, a writer for MediaPost.com, many individual titles benefited including the Food Network Magazine which increased ad pages by 263.7 percent, ESPN The Magazine up 43 percent, Harper's Bazaar up 33.7 percent, Good Housekeeping up 23.5percent and Cosmopolitan up 22.1 percent.
As for me, I would rather pick up a magazine on the beach than read from a smartphone or tablet computer. Along with flip flops, sun block and a beach towel, a magazine is a must have. Plus, I don't have to worry about getting it sandy!
With digital media EVERYWHERE and technology on the fast track, can print media keep up with the competition? Do you think magazines will still be a relevant media channel in the future?
Austin Williams is a fully integrated advertising and new york digital marketing agency, our in-house services include research, brand identity, campaign development, media planning and buying, website development, digital marketing, content creation and public relations. We are a financial advertising agency, healthcare marketing agency, higher education marketing agency, and professional services marketing agency.