More and more, we have clients asking, "Isn't TV dead? Shouldn't I be moving my media dollars elsewhere? Is this medium still an effective place to advertise?" The short answer: no, yes, but there's more. Let's set the record straight.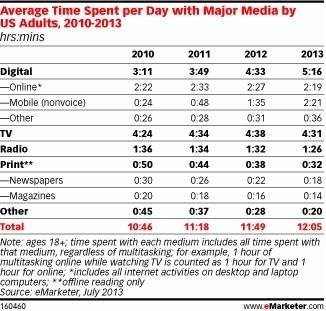 According to eMarketer's 2013 data, daily TV viewing has remained steady around 4.5 hours per day for the last four years. That's a lot of TV watching, and it makes TV the #1 media leader in terms of time spent daily (and that's factoring in all those binge hours spent on The Walking Dead, Games of Thrones and Breaking Bad). As TV viewing has remained robust, the surprise is the time spent with online media, which hasn't seen much change over the past four years: It's remained very consistent at approximately 2 hours, 20 minutes daily.
So, what has changed, you may ask? Increasingly it's time spent on mobile – which has, to put it mildly, exploded. Back in 2010, daily user time spent on mobile devices was a mere 24 minutes per day. Now, the average user spends more than 2 hours a day on mobile viewing.
Of course this explosion of mobile usage has come at the expense of other media, right? Not so! Turns out, we're devoting more time with media than ever, with total daily consumption across all media growing from 10.75 hours a day in 2010 to about 12 hours a day in 2013. To put it another way, we are now consuming 15% more media than we were in 2010. Mobile has driven this increase, and it has expanded the overall media universe. With even more hours in a day to reach people, there's definitely a reason to celebrate!
Bottom line: It's more important than ever to examine your media plan. Do you have your dollars where your viewers are? If you're not factoring in mobile customers with geo-targeted advertising and device-friendly viewing, then you're missing an ever-growing segment of viewership.
Learn more about Austin Williams' digital marketing services, including paid search, search engine optimization (SEO), paid and organic social media, and programmatic media – complete with tracking, analysis and reporting (because we're all about outcomes).
Contact us to see how our strategic approach can give your brand the digital edge.