Blog World was a great conference. If you missed my recap of day one, you can read it here.
There is definitely something gained by actually being at the conference that you wouldn't get by just following the hashtag on Twitter or viewing the slides on Slideshare. Spending the full session time completely focused on a particular topic, in addition to the in-person conversations, really allowed me to get a clear idea as to where things are going.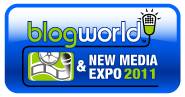 There was a lot of discussion about QR codes, location-based marketing such as Foursquare and even game mechanics (gamification). These technologies and buzz terms haven't hit the tipping point yet, but you need to understand and follow these subjects now in order to use them in the future for your brand.
Here's a quick overview of the sessions I attended on Day 2:
The Social Habit
Why I chose this topic:
With the promise of new data on mobile behavior, my goal was to gain a better understanding of mobile consumers. What are they doing with SMS and social networking? How do they want to be reached? How to they communicate with brands?
What I got out of it: A better question to ask is what didn't I get out of it. The session, led by Tom Webster, gave amazing insight on how Americans consume social media, text and communicate from their mobile devices. America is well connected to the internet:
50% of the U.S. population has a mobile phone.
31% of Americans have a smartphone (tripled in just three years).
52% of Americans (age 12+) have a social media profile on one or more networks.
92% are aware of Twitter, but usage is only 8%.
Three in 10 Twitter users are daily users.
18% of frequent social media users have used a smartphone to participate in a mobile promotion.
Facebook is the leading social network where consumers interact with brands. Roughly 43% of habitual social media user follow a brand, compared to an average of 25% for most Americans. Awareness for location-based services is also growing. When it comes to mobile consumers, they are the active consumers. You'll find them out at restaurants, bars and shopping; these are the people spending money.
Tom gave some final thoughts as well on measurement, metrics and common sense:
Don't grow bigger ears, grow smarter ears. We need to approach data intelligently and go into it strategically.
Don't get caught up on meaningless metrics. Any metric is meaningless until you prove it isn't.
Life and commerce happen offline. The best way to find out where the sale came from is to ask.
Do the work, don't just collect the data. Read it. Translate it into something useful.
Facebook. Duh.
No B.S. Guide to Advertising and PR for Bloggers
Why I chose this topic:
My hope with this session was to get an idea of what bloggers expect when being contacted by agencies for product coverage.
What I got out of this session: Jason Falls shared some interesting (and frightening) stories that illustrate some of the hurdles and difficulties of building the blogger/agency relationship. Compared to network TV, radio and print, blogs only represent a very small fraction of consumer's attention. At the same time, many blogs maintain a very niche audience: moms, marketers, CEOs or even gardeners.
The big takeaway for both bloggers and agencies is to respect each other. Agencies should approach bloggers one-by-one and never by a massive or generic email blast. Spend time reading the blog to understand the content before approaching the blogger. Does your product fit the blog? Is it relevant to the blogger?
Killer YouTube Tactics
Why I chose this topic:
YouTube is big. Very big. In fact, its the second-largest search engine next to Google. My hope for this session was to learn more about getting more views for videos and building a stronger community on this social network.
What I got out of this session: Julie Perry of Blast Media gave a session full of tactics for taking your YouTube videos to the next level. YouTube holds the majority of the online video market. The audience is engaged and the demographic isn't just kids throwing things at each other or people interested in seeing cute videos of kittens. YouTube videos have the ability to rank in Google's search results and are accessible from mobile devices as well as your television (via Wii, TiVo, etc.).
Julie's killer tactics include:
Set up a channel.
Give your channel a custom background.
Edit the channel's "About Us" sections and other relevant sections. Don't forget to include your URL in multiple areas.
Utilize the "recent activity" and "other channel" modules
Feature some content, even if its not your own.
Enable Autoplay. Why not?
Tell your audience where to go for more. Include your URL at the beginning of your video descriptions.
Set up a promoted ad campaign. Compared to AdWords, you might be spending less per click.
Run CTA Action Ads in your videos.
Don't forget that YouTube is a social network. You need to socialize.
Do the keyword research.
Use keywords in your video title, but don't stuff them in there.
Add tags to videos.
You get 5,000 characters in the video description. Use them.
Add an interactive transcript.
Leave channel bulletins to link to videos or give tips.
Add annotations.
Game Mechanics and the Future of Loyalty
Why I chose this panel:
The tools and functionality of game-play are being used more and more in marketing. My hope was to learn more about how to use these game mechanics (gamification) to drive brand loyalty.
What I got out of this session: I think I may have walked out of this panel more confused than when I came in. We've all seen progress bars lead us through the sign-up process or even those Subway loyalty cards that reward us for buying 11 subs by giving us the 12th sub free, but are these tactics driving loyalty to the brand or are they just driving consumers to save money on sandwiches? The "earn and redeem" model does not always mean loyalty.
Location-based social networks such as Facebook Places and Foursquare have been trying to "gamify" the check-in process through badges, deals and mayorships, but the process is flawed. Brands shouldn't require customers to work for loyalty – it should just happen. Think of ways to reward customers without making them work and do things that give customers a reason to talk about you. The best example of this is when my buddy Pete Shelly received a free hat from MailChimp. That single act of kindness got Pete to tell me (among others I'm sure) about the excellent service he gets.
All in all, it was another great day at Blog World. Did you attend? What were your favorite sessions?
Austin Williams is a fully integrated advertising and new york digital marketing agency, our in-house services include research, brand identity, campaign development, media planning and buying, website development, digital marketing, content creation and public relations. We are a financial advertising agency, healthcare marketing agency, higher education marketing agency, and professional services marketing agency.