Bean counters. Naysayers. These are terms some people associate with the accounting department and, by association, the CFO. As new clients are given a tour of the office, they usually slip right past the Accounting Department with a simple "Oh! That was accounting."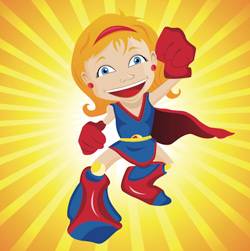 Those of us privileged enough to be part of a great advertising agency, take these brush-offs in stride. Because we know, at the end of the day, it's the "CFO to the Rescue." The ad Agency CFO is always in ready mode; ready for action and ready to save the day. Whether it's cash-flow, credit issues, healthcare or other insurance issues, audits, compliance . . . the list is endless, but it all requires expert problem solving.
A CFO must be an expert in many different areas. A true expert CFO might not know all the answers all the time, but he or she can articulate the right questions. She also needs reliable resources for assistance when the going gets tough.
Allow me to introduce myself. I am Sandra Drucker, Chief Financial Officer of an amazing advertising agency, and I am always ready, willing and able to be "CFO to the Rescue." Stay tuned for my upcoming blogs as I will address some of the day-to-day issues we face as CFOs and "advertising people."