It's time to clear the cobwebs from your in-house email lists.
Good news: it's not nearly as painful as cleaning the fuzzy leftover experiments from the back of your fridge (don't deny it).
Better yet, we've made it as easy for you as possible (other than hiring someone to do it)! We've combined leading Email Service Provider (ESP) statistics and our own experience and data into a concise list of general guidelines. The result is a great overview of the when, why and how of email list maintenance.
Your list needs cleaning if:
You irregularly send to your audience.1
You've been inactive during the past 6 months.1
Your SPAM/abuse report rate is higher than 0.05%.2
Your unsubscribes on a send exceed 1%.2
Your total bounces on a send exceed 2%.2
Your open rate is below 10%.2
Reasons why you should clean your lists:
Save money on distribution: Sending to a smaller list typically decreases the bill from your ESP. Whether your ESP uses tiered pricing (send up to X emails for $Y/month) or charges per email sent, reducing the size of your list is a win-win situation for your financial bottom line.
Improve your metrics: List maintenance enables you to more accurately target your active audience. Imagine how the 80/20 rule applies here: if 80% of your sales come from from 20% of your audience, it makes sense to focus your efforts on the your most qualified readers. In doing so, your open/click through rates and resulting conversions will skyrocket.
Avoid negative backlash from uninterested recipients: Email recipients are a fickle bunch. One month they may be extremely interested in a topic, and the next, they won't remember that they opted in. Routine list maintenance combats disinterest over time and helps prevent your emails from being flagged as spam. And, it deters social network lash-out and bad word of mouth that may also occur in severe cases.
Improve your sender reputation: If you don't think reputation is important, consider this. More than 70% of the conditions a spam filter uses to deliver (or not deliver) your email is based on your sender reputation. List maintenance reduces your send volume, bounce rates and spam complaints, which improves your reputation. According to ReturnPath.com, Improving your reputation also greatly helps your deliverability rate, which averages about 80%.
Fulfill your legal obligation: We all hate email spam and the CAN-SPAM Act exists to protect our inboxes (though some days you'd wonder how much more spam we'd get if there weren't legal ramifications). By law, you must remove an unsubscribed recipient email within 10 days of the request or face penalties of up to $16,000 per email.
Now that we've gone over the Why, download our infographic below to and find out How to regularly maintain your email marketing lists. We've also included some tips and reminders throughout the process – a little "mental maintenance" is always wise for even the most adept email marketer.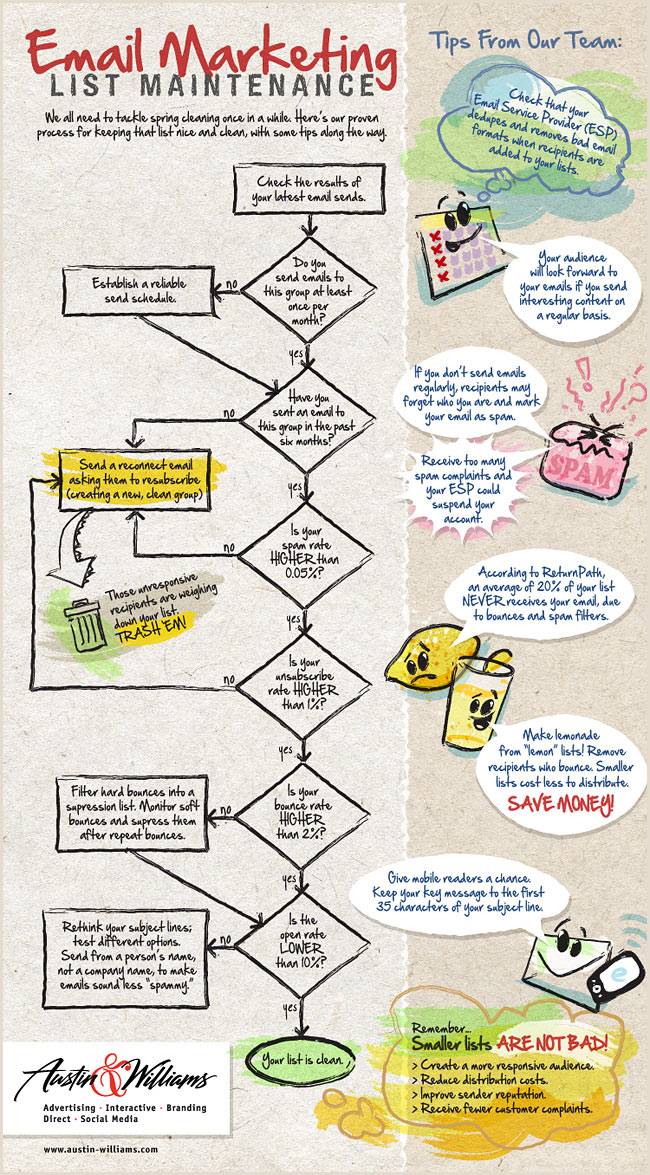 Did any of our recommendations work wonders for your email communications? Have you found a better solution? Drop us a comment below to let us know what tactics you've found work best at improving your email marketing strategy, deliverability and conversion.
Sources:
1. Statistics from lyris.com, smallbusiness.chron.com and private data.
2. Averaged data from campaignmonitor.com (a, b), mailchimp.com, mailermailer.com (a, b) and private data.
Learn more about Austin Williams' digital marketing services, including paid search, search engine optimization (SEO), paid and organic social media, and programmatic media – complete with tracking, analysis and reporting (because we're all about outcomes).
Contact us to see how our strategic approach can give your brand the digital edge.