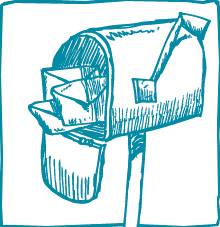 Direct mail is a powerful communication tool with amazing targeting abilities and the potential to reach people that can't be reached online. When they work, they work well; but when they fail, it can hit your brand hard. Many people blame direct mail failure on the rise of social media use, but most of the time it comes down to poor planning, bad timing and a variety of other factors. We asked our team of marketers, strategists and designers for their input as to why direct marketing programs fail.
Here's what we had to say:
1. Your direct mail piece is a needle in a haystack. When your audience is sorting their mail, size matters. Small postcards are cheap to send, but they're also more likely to be dwarfed by the catalogs, coupon books, magazines and even bills. To make sure your direct mail isn't put in the junk pile, you need to think big. Oversized postcards may be more expensive to print and mail, but they'll get noticed.
2. Targeting the wrong prospects. The single most important rule for successful direct marketing is to target people who look most like your best customers. Marketing to people who don't have a strong interest in your product or service, or the authority to purchase, is like throwing money away.
3. It was all about you. Don't tell them what you think they should know about you… tell them what's in it for them (and why they should care).
4. You played the "name game"—and lost. If you get your recipient's name wrong, it's going in the shredder, period. Personalization is a great way to make your direct marketing messages more personal, but make sure you have the names right!
5. It is not interactive. Interactive doesn't just relate to digital media. Direct marketing pieces can slide, unfold and open to create an experience for the recipient. Interaction gives your audience a reason to engage with your direct mail.
6. You weren't there when it mattered. More often than not, it's about showing up at the right time; being there when something happens in your prospect's life that creates a need for your product/service. Since you can't always predict when that is, you need to mail with some frequency. This keeps you top of mind and stimulates an action.
7. You sent your direct mail to everyone. Smart direct marketers target who gets their mail by more than just location. Put some analytics behind your list and it'll work a whole lot better.
8. It takes more than one postcard to get noticed. Send different messages with different offers (even in different formats) can turn heads and make your brand more memorable.
9. Your offer didn't make the cut. Getting the right offer in front of your targets can change your response rate from 1% to 6%, which makes a huge impact on the return on investment. Let your initial offer expire four to six weeks after receipt to create a sense of urgency.
10. You went too far. In any retail establishment, including banking, there's a "distance decay" factor. The farther the person is from the location, the less likely they are to go.
11. You wrote a book. Less is more when it comes to copy. Going through the mail is (hopefully) not the highlight of someone's day, so you only have a limited amount of time to get his or her attention. Get straight to the point.
This is just a start. What would you add to the list?
Austin Williams is a fully integrated advertising and new york digital marketing agency, our in-house services include research, brand identity, campaign development, media planning and buying, website development, digital marketing, content creation and public relations. We are a financial advertising agency, healthcare marketing agency, higher education marketing agency, and professional services marketing agency.