A few months into 2023, it's clear that some trends are here to stay as dominant forces in the social media landscape.
Short-Form Video & the TikTok Takeover
Short-form video content has exploded in popularity in recent years, and this trend shows no signs of slowing down. Platforms like TikTok, Instagram Reels, and YouTube Shorts have given users the ability to create bite-sized videos that are perfect for quick consumption. So while there are threats of a TikTok ban looming, it's clear that short-form video content is here to stay—and if TikTok does get banned, another channel is likely to take off quickly.
Last year, TikTok released seven updates that were directly inspired by other social media channels. In fact, in the coming years, TikTok is positioned to become the #1 social network due to how fast its ad revenue is growing.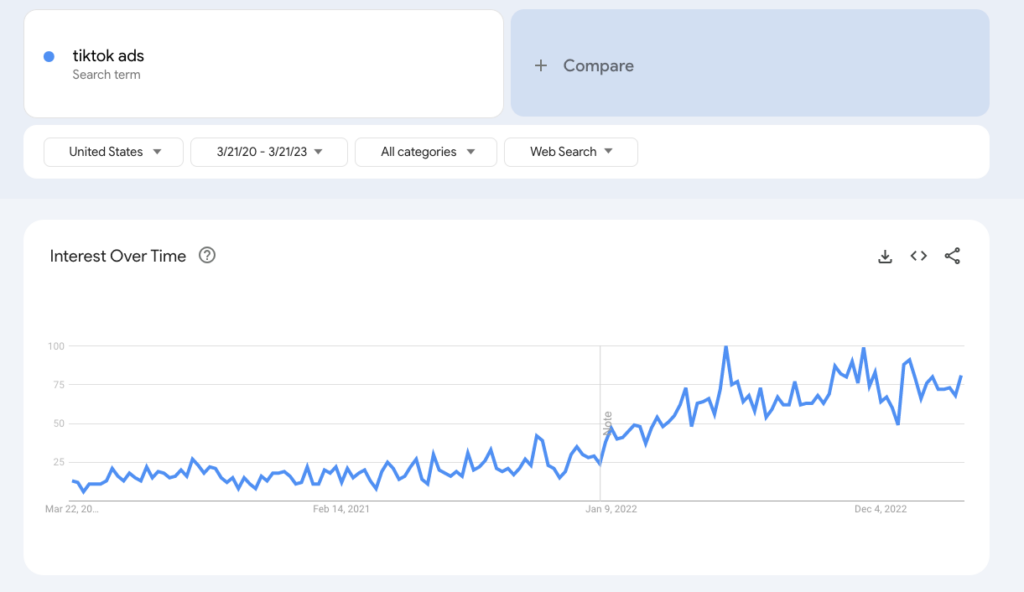 According to Google Trends, interest in TikTok Ads (which is a good indicator of business interest in the platform) has increased nearly 800% since 2020.
Expect to see even more brands doubling down on short-form video. Companies will increase investment in engaging, snackable content that can be shared quickly and easily across multiple social media platforms.
Couple this with longtime staple platforms like Facebook further throttling their built-in interest-targeting options, especially when targeting users under the age of 18—key for higher education recruitment—and TikTok emerges as one of the few paid digital channels that allows advertisers to reach younger audiences with confidence.
Sharing Is Caring—Redefining UGC (User-Generated Content)
User-generated content (UGC) is becoming an increasingly important part of the social media landscape. UGC refers to content that is created by users rather than brands, and it can take many forms, from photos and videos to reviews and comments.
We expect to see more brands harnessing the power of UGC to engage with their audience. By encouraging customers to share their experiences with their products, companies can create a sense of community around their brand and build trust with their customers. However, gen Z's influence and interest in content creation are redefining what UGC means. In 2023, you will likely hear of brands paying "UGC creators" to produce content that looks like organic UGC but is in fact planned—like an influencer play, but leveraging "common people" instead of influencer accounts with hundreds of thousands of followers.​​ Brands are increasingly relying on this "creator economy" for social media content creation—and it's no longer specific to tried-and-true influencers.
Social SEO
Google is now facing competition from social media platforms for share of younger audiences' voice and search preferences. Many social media-hooked millennials and gen Zs are using social platforms as search engines. Hashtags—though not a thing of the past—are not the only way people search for content on social media. Rather, they search for keywords much like they would on Google—and savvy marketers will be using keyword research to help social media managers make content that people are already searching for.
like what you're reading?
subscribe to our newsletter
"*" indicates required fields
Social Commerce Reluctance
Social commerce refers to the practice of selling products directly through social media platforms and it's been on the rise in recent years. Despite this rise—mainly in other countries such as China—the data show that many American and European users still don't trust shopping directly within social media platforms. According to a 2023 Hootsuite study, marketers in North America face a trust gap that leaves them struggling to replicate the social commerce success seen in other countries. So much so that Meta decided to shut down its live commerce functionality on Facebook and affiliate product tagging option on Instagram. TikTok also scaled back its e-commerce plans, delaying the launch of live shopping.
Lead generation-based businesses are affected by the trust gap too. Users have become increasingly less likely to convert directly after clicking an ad, but social remains an important touch point in the user journey in terms of building awareness and engagement. This is most often reflected through assisted conversions rather than direct-click-to-conversions—and this reluctance is a silver lining for advertisers who stay the course, since costs-per-click are likely to come down a bit in the next few months.
Challenger Channels May Be a Flash in the Pan
BeReal is a social media app that prompts users to post an unedited photo—using both the front and back cameras of users' smartphones—within a two-minute timeframe at a random time, once per day. Its goal is to encourage "realness" and authenticity as opposed to the carefully curated aesthetics that influencers cultivate—full of happy, lavish lifestyles and body images that are near-unattainable for average social media users—on platforms like Instagram. It also prevents users from looking at other folks' past posts to mitigate potentially-obsessive "lurking." BeReal does not offer any editing tools and the two-minute prompt is meant to encourage users to post something "in the moment," without tailoring it.
Although BeReal has over 30 million downloads and the noble mission of breaking the stigma often attached to social media, it's just not an effective place for brand marketing in its current iteration. Not just because it currently does not offer any sort of built-in opportunities for brands to create business accounts or paid ads, but because its whole purpose is to serve as an escape from traditional social channels that are teeming with advertisements.
In 2023, we suspect interest in BeReal will fade as keeping up with social media app trends and features is a tough challenge (Clubhouse knows). In the meantime, marketers recognize that BeReal addresses authenticity, something that younger generations value and brands would do well to focus on. BeReal may not have nailed down the formula that balances authenticity with the monetization social media channels need to keep the lights on (yet), but it's likely that another app will.
Social media continues to evolve at a lightning-fast pace, with new trends emerging daily (with Meta verified launching in the literal moment this article is being written!).
If you feel it's time for your brand to establish itself and remain on the cutting edge of worthwhile social media trends (while tuning out what's a flash in the pan), contact us.