Hauppauge, NY (April 4, 2022)–Hauppauge ad agency awards tuition assistance and ongoing mentorship.
Austin Williams, a full-service marketing, advertising, digital and public relations agency located in Hauppauge, NY, today announced it has awarded the second round of its Opportunity Scholarship in Marketing/Communications/New Media. The scholarship helps minorities and students of color achieve their aspirations of a degree and a career in advertising and marketing through mentorship and financial assistance.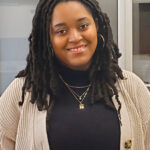 St. Joseph's College sophomore Leilani Henry Thomas, 18, of Manhattan, NY, will receive $2,500 in annual tuition assistance and mentorship and an eventual paid internship at Austin Williams in her junior and senior years.
"I'm excited for the opportunity and grateful for the chance to learn and grow," said Leilani. "This will be a foot in the door to where I want to take my career."
Leilani Henry Thomas ('24), is a first-generation American and the only child of a single parent who immigrated from Trinidad and Tobago, splitting her 18 years between New York and Concord, NC. After graduating from the International Baccalaureate program at Concord High School, she became a marketing major at SJC Brooklyn. Leilani chose marketing because she "wanted to be in a creative environment" and in the future, would like to pursue a career as an art director or event planner for large scale, corporate events.
"We're thrilled to be helping students like Leilani and do our part to make advertising a more diverse industry," said Eva LaMere, president of Austin Williams. "Every ad agency has an obligation to enable young people of color to pursue a career free from barriers. We've said from the start that this program should be replicated by every agency that wants to put its words into action."
The AW scholarship program, in partnership with St. Joseph's College in Patchogue and Brooklyn, NY, and Molloy College in Rockville Centre, NY, was launched in late 2020 and will ramp up over time, sponsoring a growing number of students each school semester. When fully implemented, the scholarship will simultaneously fund the tuition of four students from each college at a total cost of more than $100,000 over the students' four years of college.
The program will also include paid internships at Austin Williams for those same students in their junior and senior years. Throughout, Austin Williams team members will serve as mentors for the students, assessing their course work, offering advice and providing guidance for their future job prospects.
About Austin Williams
Austin Williams is a full-service advertising, marketing, digital and public relations firm, creating ideas that inspire action for clients in the healthcare, higher education, financial services and professional services industries. Certified as a Women Business Enterprise (WBE) by the State of New York, the Long Island-based firm was founded in 1992 and was named one of the 100 fastest-growing agencies in the nation. In 2017, it was listed as a Great Place to Work by the institute that creates the annual Fortune 100 Great Places to Work list, named to the Inc. 5000 list of the nation's fastest-growing companies and in 2020 was named a Newsday "Top Places to Work."
About St. Joseph's College
St. Joseph's College has been dedicated to providing a diverse population of students in the New York metropolitan area with an affordable education rooted in the liberal arts tradition since 1916. Independent and coeducational, the College provides a strong academic and value-oriented education at the undergraduate and graduate levels, aiming to prepare each student for a life characterized by integrity, intellectual and spiritual values, social responsibility and service. Through SJC Brooklyn, SJC Long Island and SJC Online, the College offers degrees in 60 majors, special course offerings and certificates, affiliated and preprofessional programs.